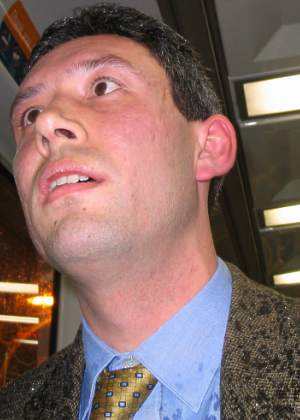 Clearly I made a couple of bad decisions. I chose the wrong time to bail out of Doug's 2004 Australian Tour drinkies at the Fed Square wine bar.
And I chose not to bother to get my umbrella out and doing its umbrella-thing when walking the half-block to the station. After all, how wet could I get? Quite wet, as it happens.
(Those shiny things up top aren't my many grey hairs revealing themselves, but droplets of water).
Ahhh… the smell of wet wool.
Oh well. Fish'n'chips made it all better.