On this day 150 years ago, at 12:20pm, Australia's first train service departed Flinders Street Station bound for Port Melbourne.
With that in mind, here is my local railway station.
This picture was taken on Friday morning. I actually use various stations around here depending on precisely where I'm going that day, but this is the closest one to my house. The railway line here opened in 1879, and was electrified in 1922.
Want to post a picture of your local train/tram/bus stop? (Or your parking space perhaps?) Link in the Trackbacks or comments.
To commemorate this anniversary, there were steam train rides between Caulfield and Sunshine today. At $2 a pop, it was standing room only, but everyone seemed to have a good time.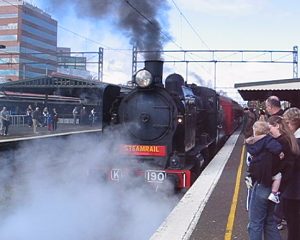 PS. Museum of Victoria has a great 150 years of railways web site.