Happy (late) 5th birthday to Southland station! It's five years last Saturday (election day) since the station finally opened, after having been promised during the 2010 election.
Some people actually believed that few people would use the station once it opened. This has proven to be completely wrong.
I thought I'd try to chart patronage at the various Frankston line stations south of Caulfield, before and after Southland station opened in 2017.
Patronage numbers have been pretty rocky during and post-COVID-19, making direct comparisons difficult. So instead I've tried charting the ranking of each station by patronage – from Glenhuntly to Frankston, excluding the inner section where all stations share (or previously shared) some patronage with other lines.
As you can see, Frankston has consistently been the busiest station on the line.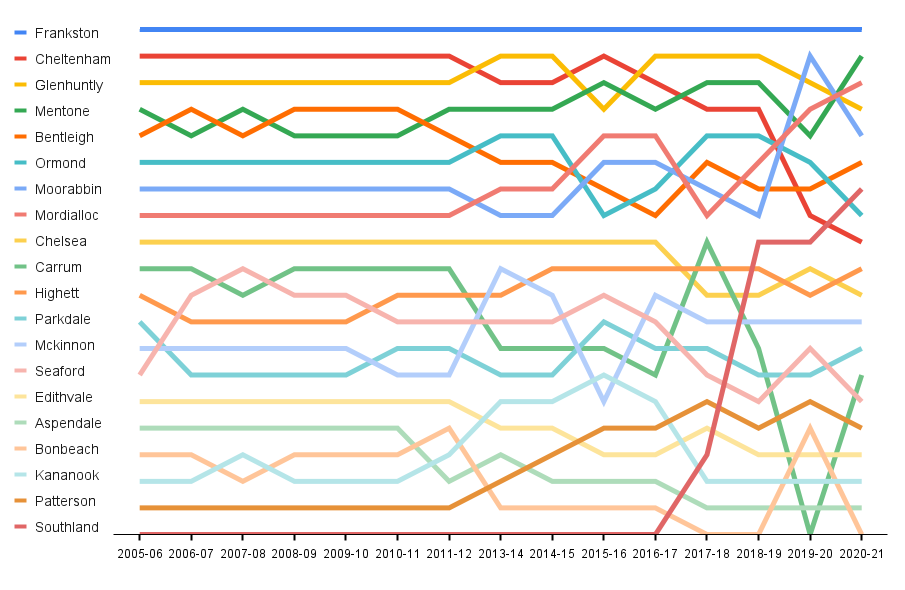 Since opening in November 2017, Southland has shot up the rankings to 7th busiest out of 20 for patronage. And that's just the data to the end of the 2020-21 financial year, so that's pretty good going for under 4 years – and covering some lockdown periods when people couldn't go to most shops.
Stations like Southland are good for the rail network because they help diversify the trips on it. Pre-COVID this was important because it grew patronage without adding peak hour crowding. Post-COVID it's important because many people no longer commute to 9-5 CBD office jobs.
Other things I notice in the chart:
Most of the rankings are very consistent from about 2005 to 2012 – even though we know at this time that patronage right across the network was rising fast.
As Southland has risen up the rankings, nearby Cheltenham has dropped. But are these directly related? Did lots of people actually walk from Cheltenham before Southland opened? I doubt it.
EDIT: Some people have commented that they did indeed walk from Cheltenham to Southland – so did I, sometimes. But I submit that far fewer did than use Southland station now.
I suspect Cheltenham's patronage was affected more by extended closures during the level crossing removal project there.
We'll see if in time patronage at Cheltenham bounces back, but the other factor might be a long-term shift in commuting patterns due to COVID, possibly affecting some stations more than others. Hard to measure from a chart like this, I suspect.
Other stations also saw big drops during their level crossing removal closures, for instance Ormond, McKinnon and Bentleigh during 2015-16
Carrum shot up in 2017-18 (perhaps due to the Seaford project?), then down in 2019-20 (when its crossing project was done).
Moorabbin shot up in 2019-20. This has been an important bus/train interchange point during bus replacements for works.
Mentone has been consistently high, probably thanks to school traffic
Patterson (which is just outside zone 1) was the least used station on the line for years, before moving up the rankings around the time of the zone 1+2 fare cut in 2015 – something I've written about before.
What else can you see?
Are there other lines that would benefit from this type of chart?
---
Source: DOT Annual metropolitan train station patronage (station entries) and earlier similar publications.