Obviously, travel demand in cities is in turmoil just at the moment, but leaving the 2020-2022 blip aside for a minute, and looking again at pre-COVID travel in cities…
As a follow-up to comparing Melbourne's public transport patronage to Sydney's, I thought I'd look at all the big capital cities. The five biggest are also the only cities in Australia with more than a million people each.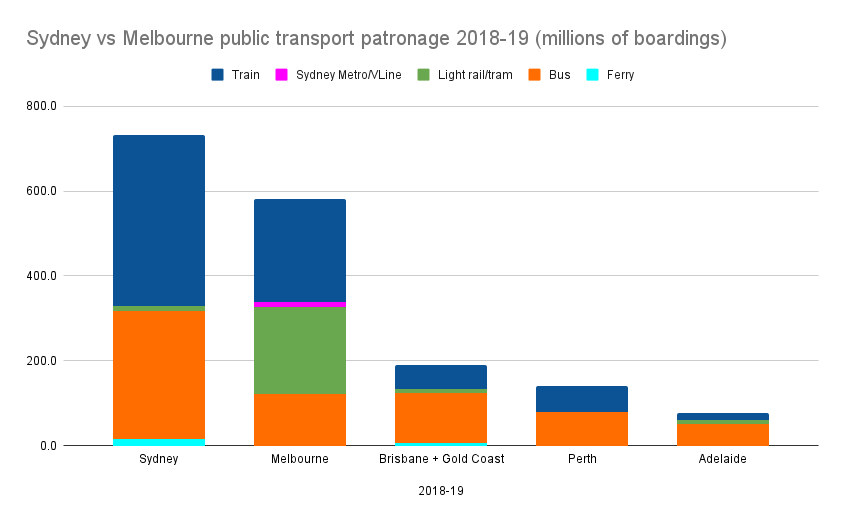 As previously noted, Sydney's patronage outstrips Melbourne by a considerable margin, mostly thanks to Sydney's rail network.
A previous blog post looked at this in more detail, noting that Sydney's rail network reaches more major destinations, and provides a more comprehensive frequent service offering than Melbourne's, with most stations getting a train at least every 15 minutes, most of the time.
Sydney bus patronage is about equal to Melbourne's trams and buses combined. Remember that Sydney's vast old tram network was replaced entirely by buses in the 1950s and 60s – today many of the inner-suburban buses run very frequently, even by Melbourne tram standards.
The new Sydney trams have had some problems, but for only a handful of routes, patronage was looking strong until COVID hit.
Brisbane and the Gold Coast (together run as the Translink network) is a long way behind Melbourne, though of course the population is smaller. Train patronage in particular is only about a quarter of Melbourne's – the poor mostly half-hourly frequencies outside peak hour probably aren't helping.
Another factor is the emphasis on Brisbane's buses for medium distance journeys that in many cities might be covered by trains. In fact Translink's bus patronage is nearly as high as Melbourne's.
Perth, with a smaller population than Brisbane, is fast catching up on PT patronage. Perth train patronage (with a mostly 15 minute frequency in daytime, every day) is already higher than Brisbane's.
Adelaide trails the others, but again, the population is smaller. Bus route reform attempted in 2020 might have helped grow patronage (it's worked well in many other cities), but it was badly handled, and stopped at the last minute.
Trips per person
Of course patronage will be higher in bigger cities.
A simple way of taking population into account is to divide the total patronage by the number of people – giving you an average number of trips per person per year.
I've added another number into this chart – it's from the Bureau of Infrastructure and Transport Research Economics' National Cities Performance Framework – a set of metrics for cities – potentially very useful, but about to be phased out, unfortunately. Anyway, it's a measurement of the number of households within 400 metres of frequent public transport. "Frequent" is defined as running every 20 minutes, a somewhat arbitrary measure, but how does it compare?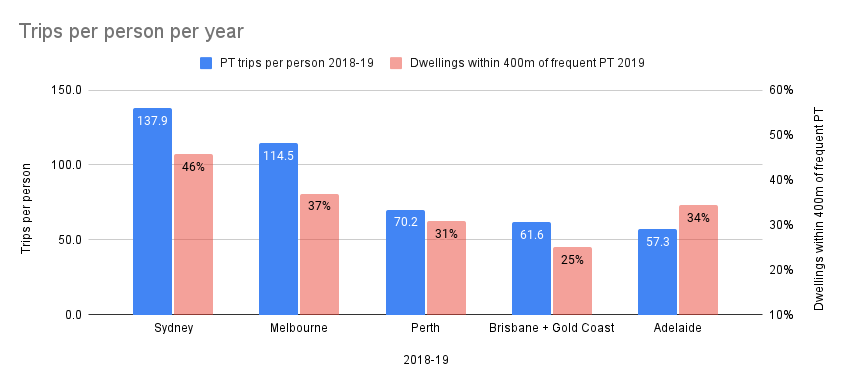 On this measure, Sydney still out-performs Melbourne. But Perth betters Brisbane/Gold Coast. (Note: the frequent PT access number I've used is for Brisbane specifically. Gold Coast is about 2% higher.)
Overall there's a broad correlation between patronage and proximity to frequent public transport.
The outlier is Adelaide, whose quite good number on frequent PT access arguably underperforms – perhaps reminding us that there are also other factors – such as the ease or difficulty of driving and parking – which also contribute to PT usage.
Does any of this matter anymore?
Obviously all of this is up in the air due to COVID-19. It'll be interesting to see how things recover in coming years.
My sense is still that long term CBD patronage will eventually come back to an extent, but a lot lower than it has been in the past, thanks to likely widespread part time Work From Home for a many white-collar workers.
But travel demand is likely to hold up for suburban (non-CBD) and non-peak travel. We've already seen this in what little data has been released for Melbourne – bus routes (which mostly don't serve the CBD) have maintained patronage closer to normal than trams and trains (which mostly do).
The opportunity is for public transport networks to better invest in non-CBD and non-peak hour trip provision to capture that travel demand. And the good news is that this is often cheaper than huge infrastructure investment needed to keep feeding the peak CBD beast.
Will governments seize this opportunity? We'll see.