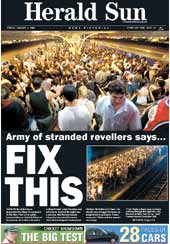 The whole New Year's Eve debacle saga that I wrote about a few months ago came bubbling back up to the surface today. The trains will run all night, as well as more frequently straight after the fireworks.
What I find particularly satisfying is not only knowing that the problem looks like it's been largely fixed, but knowing that two guys with cameras and another giving quotes to the media the next morning were able to bring an event that might have otherwise passed unnoticed firmly into the public consciousness, to bring about change.
"Last year was a disaster but we've learned from that" — Irene Goonan, chairperson, NYE Transport Planning Committee.