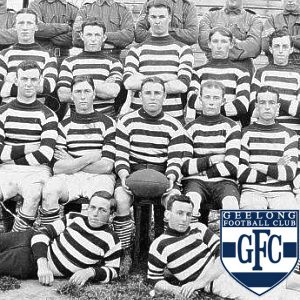 Geelong beat the Bombers by ten points on Saturday night in a rain-soaked MCG. Next comes the Preliminary Finals, and it's the Brisbane Lions, which isn't going to be an easy one to win.
I'm not the world's biggest footy fan, but I do like to keep an eye on Geelong. It's been a while since they got this close to a Grand Final. I'm ashamed to say I have no club clothing or merchandise (bar a key tag). I might have to invest in a scarf or a jumper or something to show my support.
So how did I become a Geelong supporter? With a dad from Queensland and a mother from England, there's no great football tradition in my family. No, it was all by chance.
When I was a young'un, a school friend of mine, Mark, was a Kangaroos supporter. One day I said to my mum that I'd like to get a football jumper. So we went into Myers in the city and looked. Lacking any other affiliation, I decided I'd align myself with Mark's team and get a Kangaroos jumper.
The shop was out of Kangaroos jumpers. What teams did they have that I could adopt? Looking around, I thought about a school holiday day trip to Geelong I'd taken, and noted the colours were similar (okay so they're horizontal instead of vertical, and it's navy blue instead of royal blue, but this is little kid logic we're talking about). So I said Geelong.
Presto, one Geelong supporter. And as is specified deep down somewhere in the AFL's bylaws, as well as in Melburnian race memory, once one has a team, it cannot be changed for any reason whatsoever. It's part of your identity, part of who you are. So I'm still a Geelong supporter.
My sister (for reasons I don't recall) became a South Melbourne Swans supporter. Over the following few years my dad would take my sister and I to games, some at grounds no longer used… a cold and windy VFL Park… down to Moorabbin to play St Kilda… Arden Street to play the Roos… Western Oval to play Footscray. One time he even got us grand final tickets, and we went along to the MCG, only to find they were in the (now gone) standing section, and we were rather too short to see anything. We decided to go home and watch it on telly, but at least I could say I'd been in the 'G on Grand Final day.
It's been several years since I last went to the footy. It's probably time I started taking the kids, who have somehow picked up a mix of Tigers, Bombers and Cats affiliations — maybe now is the time to get THAT sorted out!
I won't be going, but I will try to keep tabs on the Cats next Saturday night. Here's hoping for victory over the Lions. GO CATS!
How did your team get your support?