Just a quick post today.
The State Budget Papers obviously give an overview of the state's finances, and new funding initiatives.
In Victoria, they also provide the only regular, consistent view of metrics for a range of government services, including public transport patronage. (In contrast, other states put this data out far more regularly.)
Anyway, here's a graph showing Melbourne's public transport patronage since 2000.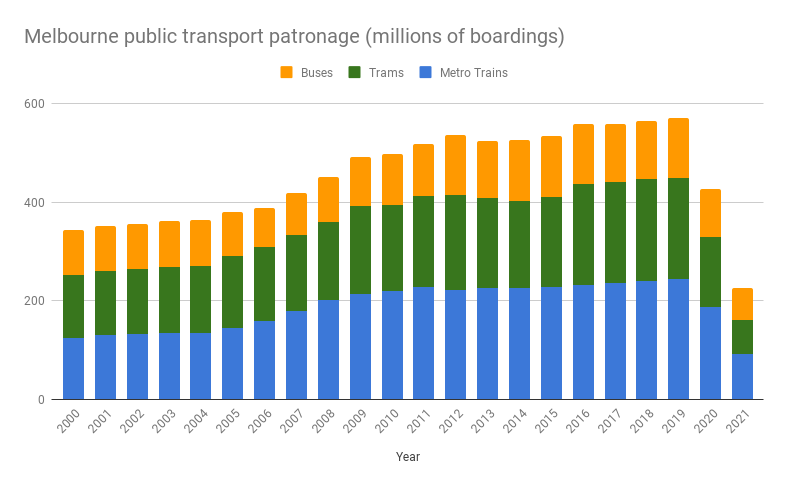 This is Metro trains, trams and buses, and the year shown is the financial year end.
These numbers don't include V/Line, which provides substantial numbers of trips in Melbourne's western suburbs.
Up to 2011 is from an old PTV "patronage long series" document; after that it's from the Budget Papers.
The sharp growth in train patronage from 2005-2010 is very apparent here. This led to a crowding crisis, arguably caused Labor to lose the 2010 state election, and strong agenda in system expansion (from both sides of politics) since then.
There's also been a steady growth in the other patronage on the other modes, with a spike in tram patronage (about 15%) between 2013/14 and 2015/16, when the Free Tram Zone was introduced.
But what I really wanted to focus on was the obvious effects of COVID-19, with patronage plummeting in 2019/20, and even further for the 2020/21 year. This final number is an "expected" figure given it was published in May – and I won't be surprised if the "actual" figure published next year is even lower given the current lockdown.
Whether and how much it recovers coming out of the pandemic is very much dependent on how travel patterns evolve in the post-COVID world.