As flagged earlier in the month, the long-awaited new rail map, in the works since at least 2014, has finally been officially launched.
It'll show up around the network in 2017.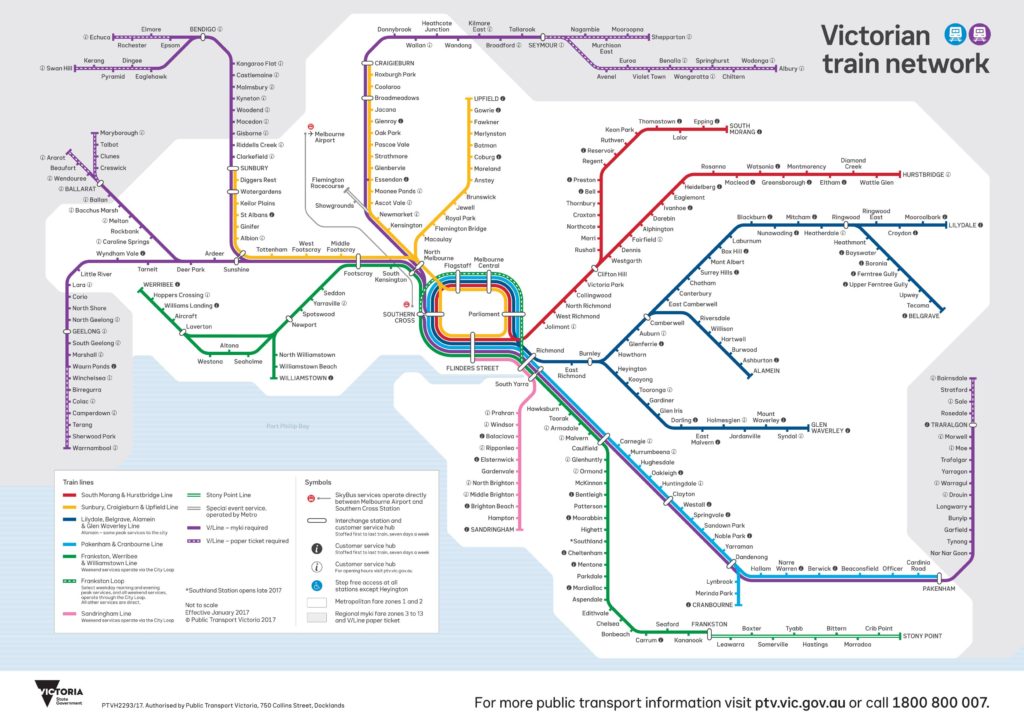 (Click to zoom)
There seem to be at least two versions: the plain one above, and a version with a grid and station index.
It's over two years since we saw the drafts — in fact this was a process started under the previous government. What took them so long to get it out? I really don't know.
But it's great to see it launched at last.
Thanks to Tim H for the tip-off: it is "in the wild" on the concourse at North Melbourne.
At one stage there were also plans to start using the colours on major interchange station platforms and concourses, to help people navigate more easily to their platform. It remains to be seen whether this will still eventuate — in some cases operations are still too inconsistent for it.
The colours are intended to match the rainbow status boards and the PTV Live Updates web site. (At the time of writing, V/Line is still appearing there in grey… hopefully it will go purple soon.)
Some comments I've seen around the place:
Skybus shouldn't be on the map. It isn't a train!
True… but I look at it this way: it's going to be a constant reminder that Melbourne should have a train to the airport.
You can't actually walk from Belgrave to Bairnsdale!
Well of course you can't. It's not to scale. Melbourne/Victorian rail maps haven't been to scale for decades.
Where's the line to (proposed destination) ?
There have been so many fantasy rail maps over the years that it's important to remember this is a new map for the current network, though it includes stations about to open (Caroline Springs) and opening in the next 12 months (Southland).
Of course it doesn't show rail to Doncaster or Rowville, or even the Metro rail tunnel or Mernda. That'd just be confusing for people trying to navigate their way somewhere. The map can be updated when (and if!) these are built.
What happened to the zones?
Zones aren't as important as they used to be. Firstly, for trips covered by Myki (which is the majority of them), the smartcard automatically calculates the fare. (There are sometimes problems with this on buses and trams, thanks to on-vehicle readers and poor GPS and other factors, but train calculations have never had major issues.)
Secondly, changes to Melbourne fares in 2015 mean we basically have a flat-fare system. A trip in zone 1 costs the same as a trip across zones 1 and 2. (There is an exception: trips entirely and only in Zone 2 are charged at a cheaper rate.)
You could add zones to the map, perhaps in the style of some of the London Tube maps (above), but it's messy, so I can understand why they left them off.
It would be especially difficult to show it for the V/Line area in a way that didn't make the map unreadable — once you leave zone 2, practically each station is in its own zone.
Note they have indicated where you can use Myki and where you need a V/Line paper ticket.
What happened to the bus/tram interchange icons?
It's true, they've gone. But in many ways they weren't very useful. Most stations have bus and/or tram connections, but the icons alone didn't tell you anything about where those routes go, or how often.
For instance, the old map showed tram and bus connections at Hawthorn. The tram is route 75, with almost 100 services each weekday (slightly fewer on weekends)… the bus is route 609, which serves the station just once per weekday.
Interchange information is better conveyed via the Journey Planner (or Google Maps) in such a way that includes the information travelling passengers actually need to make that connection.
What about the interstate trains?
There's probably an argument for including them, though the XPT to Sydney follows the line to Albury, so effectively its route already on there.
The Overland follows quite a different route (via North Shore, Ararat, Stawell, Horsham, Dimboola, Nhill). But it only runs twice a week (every other train service on the map runs multiple times per day), and its long-term future is far from certain. That said, you can book a V/Line ticket on it for trips within Victoria, and it is shown on the V/Line timetable.
Some staffed stations don't have the (i) info icon
All the interchange stations are staffed fulltime. There are some exceptions on the V/Line network; here they have the interchange bubble and the part-time info icon.
But I'm inclined to agree; it would have been clearer, and more consistent, to give the fully-staffed interchange stations an info icon.
I'm not sure why Essendon is marked one way, and Berwick is marked differently. Both get a handful of V/Line services stopping there each day.
Oh yeah, I'm not fond of the term "Customer service hub", especially as there are numerous over-the-counter services available at Metro full-time staffed stations and V/Line part-time staffed stations which are not available at Metro part-time staffed stations.
So, what are the benefits of the new map?
Maps have to be replaced from time to time anyway, as new stations open.
This design is a huge improvement on the old one — and it's about time we had a map that shows where the trains actually run, not just where there are tracks.
In other words, it's going to be far more useful for passengers.