On our trip to Canberra, I got to spend a few hours exploring a little bit of the public transport system.
It's mostly buses, but one light rail (tram) line opened in 2019, and I was keen to see it.
There's also a railway station in Kingston in Canberra's south, with regional trains to Sydney – I didn't get to see it, other than seeing a sign pointing the way via Bowen Drive.
Anyway, here are a few observations of Canberra's public transport network.
Buying a ticket
The first challenge is getting a ticket. As in Melbourne, during COVID Canberra's buses went cashless – no tickets are sold on-board anymore. It also means passengers can board at the front or rear doors.
Overall this is probably a good thing – it speeds up operations by cutting stop dwell times. But it presents a problem for new and occasional users: where do I buy a ticket?
You have a choice – you can buy single use/daily tickets or use the MyWay smartcard. I hadn't been organised enough to order a MyWay card online in advance.
In Melbourne there are 200+ railway stations, 800+ Myki retailers, plus some tram stops where you can buy a card over the counter or from a machine.
In Canberra there are ticket machines at all light rail stops and 5 bus interchanges. But there are only 35 retail outlets in the entire metropolitan area. There's not even anything at the railway station.
There were no MyWay retailers near the hotel, despite its fairly central location. The closest was in Kingston, 18 minutes walk away.
Apparently bus drivers will turn a blind eye if you just board without a ticket… but I was keen to do the right thing, so on Friday morning after breakfast I took a walk to go and buy a card, seeing a few sights along the way.
The MyWay card is $5, and of course I had to load money onto the ticket, and without really thinking about it, plumped for $20… which was way more than I needed.
Never mind, I'll have the ticket for the next trip… except it expires in two years so I don't like my chances.
To top it all off, after getting home I registered the card online… which is clearly a manual process at the backend, because after filling in the form it told me that it would be actioned in a few days.
Melbourne's Myki gets a bad rap, but it's not actually the worst PT smartcard in the country by any stretch.
However – as with Perth's SmartRider, which is the same technology, MyWay's cost to the ACT government was a fraction of the cost of Myki. They are planning to move to a new system.
All that said, using the MyWay card was straightforward. Reader speed was good; comparable to Myki's newer Vix readers.
The buses
As you'd expect, you don't need a special app for trip planning – Google Maps has it covered, including real-time information.
So after lunch on Friday (6th Jan) at the National Gallery, I headed to Canberra City by hopping on a bus outside the John Gorton building.
Canberra has 9 "Rapid" bus routes, running at high(ish) frequency (every 15 minutes on weekdays, 30 minutes on weekends) and long hours. Basically the equivalent to Melbourne's Smartbus routes.
Most of Canberra's other routes are less frequent services, similar to Melbourne's suburban buses. Planned upgrades of service frequencies seem to have been a big problem in recent years, with Transport Canberra failing to deliver, and reducing frequencies and operating hours on some routes.
All buses have bike racks on the front of them, though I didn't see many in use.
A twist is some buses in Canberra are run by CDC for Transport For NSW, as they come in from across the ACT/NSW border. These use completely separate ticketing. Ugh.
A few of the bus stops are done up with extra big shelters, "platform" labelling and even "station" naming – similar to Brisbane's busway stations, but in Canberra these all seem to be on the street. And they don't have ticket machines.
These stops also had real-time information screens. Potentially confusingly, the screens on each platform listed all the departures for both platforms.
There's some use of bus lanes and priority B lights. From only a quick look during a mostly quiet time, it was hard to tell how effective and comprehensive this is.
My bus took a slightly convoluted route thanks to major roadworks at London Circuit, just north of the lake, which is to enable the next stage of light rail.
Canberra Light Rail
I'd arranged to meet Matt and Ryan from the local public transport advocacy group PTCBR, and they suggested a ride on the light rail, which I was keen to try.
We rode all the way to the end of the line, and swapped notes on the world of public transport advocacy.
The Canberra Light Rail opened in 2019, with 14 stops along a 12 kilometre route from the city centre to Gungahlin. The trip takes 24 minutes, making an average speed (including stops) of 30 km/hour, similar to the Gold Coast, and almost double the 16 km/hour average speed of Melbourne's trams.
One can't emphasise enough how speed helps. Faster speed combined with high frequency service makes the passenger journey more competitive with driving.
And the speed makes the high frequency service easier to deliver. To run the peak 5 minute frequency takes about a dozen trams and drivers. They'd need twice as many trams and drivers if they ran at average Melbourne speeds.
The long stop spacing obviously helps, but also important are the dedicated tramway along the entire route, mostly along the middle of major roads, and good traffic light priority.
As is normal for a brand new system, all the trams and all the stops are fully accessible, mostly using island platforms. Trams are about 33 metres long, similar to Melbourne's E-class.
(Whether the vehicles are called Trams or Light Rail Vehicles seems to be the subject of some debate.)
Service frequencies are pretty good, especially compared to Canberra's buses: every 5-6 minutes in peak, 10 weekday off-peak, 15 on weekends and evenings.
Signage on Canberra PT recommends masks, but most people were not using them. I normally still mask up on PT, but didn't on the tram as I was too busy chatting to Ryan and Matt. The two trams we caught were well-used, but not packed.
Apparently trams were very crowded over that weekend due to Summernats. The route passes the venue at Exhibition Park ("EPIC"), and even on the Friday, we could see the smoke and smell the burning rubber nearby.
I also spotted a huge mass of rental scooters beside the venue. These are pretty popular in Canberra anyway, but apparently hundreds had been placed there so visitors could use them to get from the camping areas to the shops.
We took a walk around Gungahlin at the northern end of the route. It looks like a good model of medium density car-light development, with lots of walkable areas, the tram feeding into it, and connecting buses.
The light rail line is being extended further south. Interestingly the ACT Liberals opposed building the line, and now oppose extending it, despite its popularity with many locals. It was a key issue in the 2016 and 2020 elections.
The Libs announcing their opposition to the extension prompted PTCBR to issue a four word press release in response: "Good luck with that."
There are parallels with the Vic Libs and their opposition to the (far more expensive) Suburban Rail Loop. It didn't go well for them either.
Patronage levels
While Canberra has an extensive public transport network, I'd probably say that there's only about a dozen routes that offer the type of service that is attractive for everyday users who have the option of a car – the Rapid Routes and the light rail. There are also some peak-only commuter routes which probably do okay.
This is in the context of a very spread-out city which appears to have plentiful road space and parking. While there are attempts to use infill development to try and constrain sprawl, as you move around Canberra, you really get the impression that it's a city with small areas of density, surrounded by loads of empty space or low density.
Pre-COVID 2019 boardings (on just TC's network) appeared to be running at about 22 million per year, with more recent data sitting at about 60% of that, around 15 million.
The shining light for Canberra PT is the light rail plus the Rapid bus routes. It appears genuine effort has been taken to really make the light rail work well – good frequency, good speed/priority, and the Rapid routes complement it nicely.
And there's been a pay-off in patronage. Looking at the boardings for calendar year 2022, we have: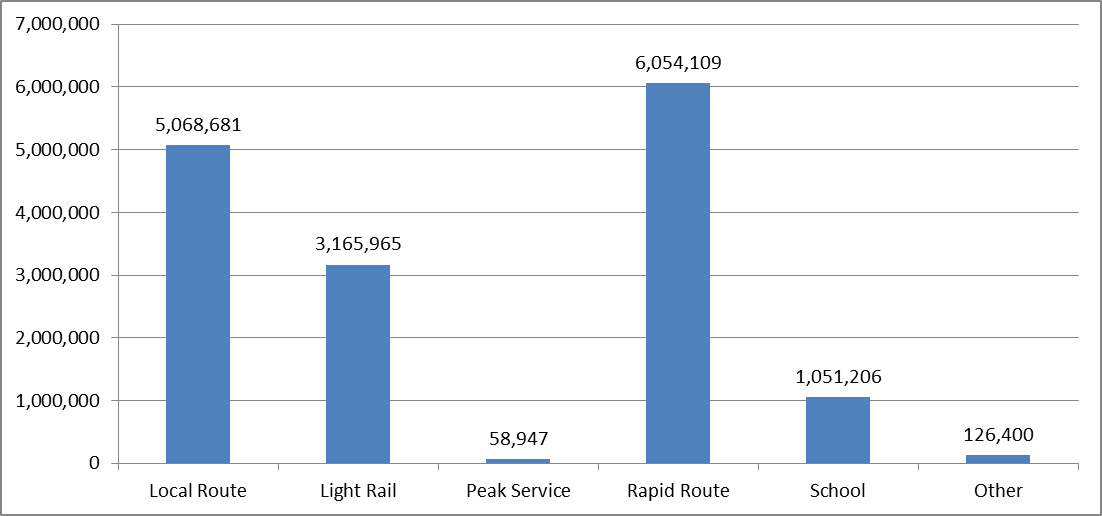 So the 9 Rapid bus routes get more boardings than all the other (local and peak-only) routes combined. And the one light rail line gets about half that again. So it appears the light rail plus Rapid routes are very successful.
(While we in Victoria struggle to get up to date patronage stats, Transport Canberra publishes theirs every day.)
Let's hope TC get their act together on bus service provision, and the light rail service continues to expand.
Thanks to Ryan and Matt for showing me around! If you're a Canberra local, please consider joining PTCBR.
Hopefully I'll get back to Canberra soon. Not sure it'll be before my MyWay card expires, but one can only hope.