The State Budget was last week, and included some good investments in public transport.
I haven't had time to write up everything (so busy!), but I thought I'd quickly show a couple of key indicators.
Total public transport service kilometres (in blue; left axis)
Public transport service kilometres per person (in red; right axis)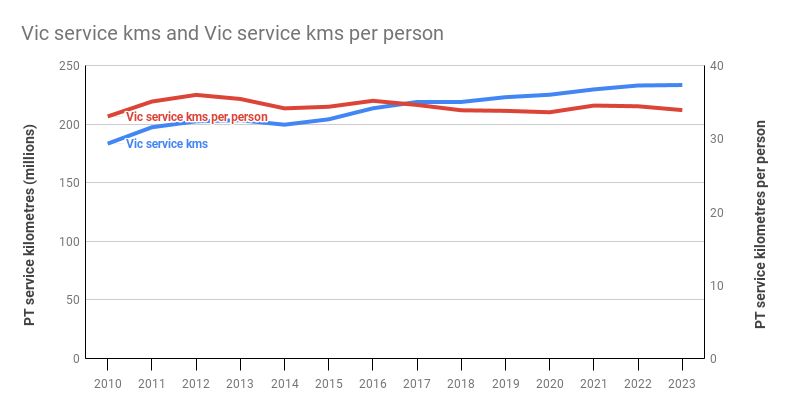 Service km figures for past years are actual. Year ending June 2022 is expected; for 2023 it's the target. Population data up to 2021 is from the ABS, with my extrapolation beyond that.
So, what we can see here is that public transport services are expanding. From the numbers, bus services specifically are increasing their service kilometres in the next year or two, with some extra services already announced.
Buses are usually the most-neglected mode, so it's good that they're improving. Sounds like we'll also see some minor route reform, which can make more efficient use of service kilometres.
Train and tram kilometres however at the moment are flat.
Statewide, overall services are rising, but services per person are dropping, from a high about ten years ago.
There is light on the horizon. The State Budget talks about investment ahead of coming improvements, the most significant of which might be the hiring "nearly 300 new drivers and station staff" ahead of the Metro tunnel opening in 2025.
As of 2019 there were more than 1100 drivers, so if many of those 300 are drivers, it could mean a solid service increase for Metro.
UPDATE 19/5/2022: It's "more than 100" drivers
Obviously this is the least they can do. You don't deliver a multi-billion dollar rail tunnel and then not have any extra train services when it's opened.
And you shouldn't expect a train service that drops back to half-hourly in the evenings to be a substitute and relief for a parallel Swanston/St Kilda Road tram service that runs every couple of minutes until midnight.
(London's Crossrail, in some ways a similar project, is about to open, and is set to initially run trains every 5 minutes at most times, ramping up later to even more frequent services.)
Population growth and public transport use may have stalled during the height of the pandemic, but they're coming back.
An increase in public transport services on new lines can mean additional network coverage, especially important in growing areas.
An increase on existing lines can mean longer operating hours and improved frequency. High frequency and short waiting times right across the day makes the service easier and more inviting to use, and is just what's needed to better serve the more diverse travel patterns resulting from more part-time CBD commuting.
Let's hope we'll be seeing more service added around the network in coming years.