I've been on a long term course to reduce my household emissions, so this little list caught my eye:
One by one on these (in a slightly different order):
LED lighting – yes – I think all the CfLs have been replaced by LEDs. LEDs to me seem to be living up to expectations of long life.
Double pane windows aka double glazing. No definite plans for this. I can definitely see it's of benefit, but the cost is substantial.
Good insulation – yes – I did the roof then I did the walls. Combined they make a huge difference to keeping heat out during summer, and keeping it in during winter.
For weatherboard homes, I highly recommend wall insulation.
Heat pumps for heating and cooling – yes. In late 2020 my old gas central heating stopped working. In early 2021 I effectively replaced it (although it hasn't been removed) with reverse cycle split systems in the main rooms.
These do a good job of heating (or cooling) the house. I'd have to admit the coverage in every room is not the same as the central heating – the heat isn't as evenly distributed into every room. Ceiling fans help a bit with this.
If you're wondering, the new units are Mitsubishi Heavy Industries – which to my surprise is completely separate from Mitsubishi Electric. I think I like the newer MHI units slightly more than the older Fujitsu I'd previously installed in the livingroom.
Electric water heater – I got one of these in March 2020, a pre-emptive strike against the old gas boosted solar unit failing. It works well.
Induction cooking – my one remaining gas appliance is the ancient circa 1930 cooker. I'm planning a kitchen renovation that will replace it with an induction stove top and electric oven… reasons it hasn't happened yet include the pandemic and my own inertia.
Electric vehicle – well… my trip to work (when I'm working in the office) is via electric train. And in normal times that's the bulk of my travel kilometres.
But my car (bought new in 2018) is still petrol. This is probably my home's biggest emitter.
Presuming that for some trips PT will still be impractical, I am thinking the next car should be electric.
Purchase price is the main barrier. Somewhere I read that the battery is a big part of the expense, and can account for around half the total cost of the car, but this is expected to drop to a third soon. It helps explain why most electric cars are at the high end, with a few around $50K, but most north of $60K.
Some people say yeah but you can buy a secondhand Nissan Leaf for under $20K. Okay, but if I'm in the secondhand market, I can spend a lot less than that on a petrol car… and it sounds risky with regard to battery range and life.
Range is a concern for me. I don't drive as much as many other people, but several times a year, it's trips to regional Victoria to visit relatives, including to towns such as Heathcote which currently have zero public chargers.
Petrol Hybrid Electric Vehicles are the middle ground, with a battery providing enough storage for short trips (up to around 50-60 km in most cases) and petrol for longer distances. Sounds okay in theory but they too are quite expensive and I'm assuming the maintenance isn't cheap.
The list doesn't mention solar panels. I now have these – installed last year as well with the water heater (well, a year later actually, due to COVID delays).
So with the panels and the removal of 2/3 gas appliances, how is my power consumption looking?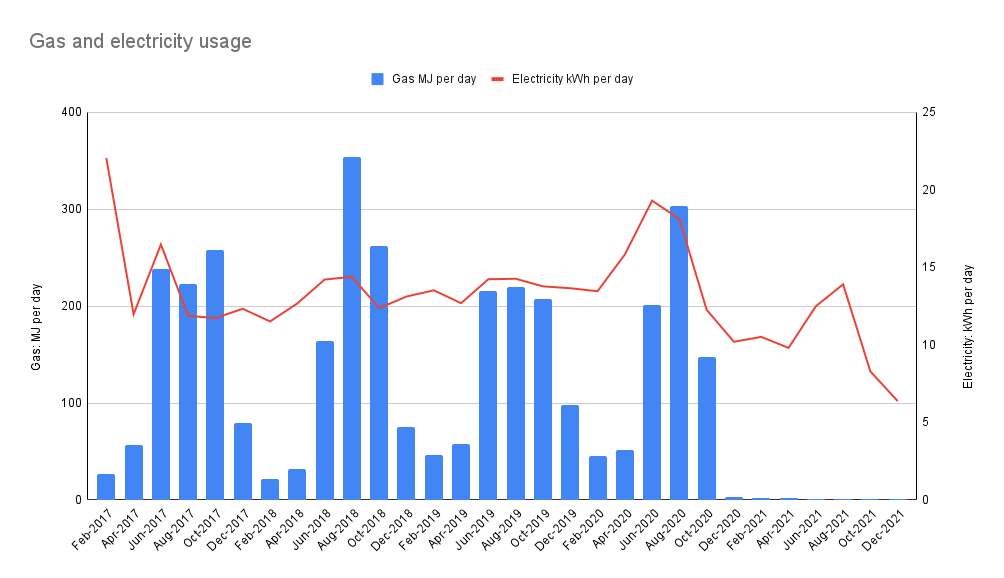 Electricity consumption from the grid (the red line) went up in early 2020 when I started working from home, but down again when my sons moved out in August 2020.
The PV solar was installed in April 2021. Power consumption was back up in winter 2021 when the electric heating was used for the first time instead of gas. The real benefit of the solar panels is seen in the data for late 2021, with average daily usage from the grid down to just 6.38 kWh per day.
I'm trying to make use of the solar by running the dishwasher and washing machine during daytime. I believe the hot water system also has the smarts to do this.
Gas usage (the blue bars) dropped dramatically once it was no longer used for heating. One gas bill reckoned it had dropped 98.99% in a year. It's now barely visible on the graph.
I notice for 4 gas bills in 2021 it said I used 117 MJ… I wouldn't be surprised if it's not very accurate at very low volumes. Certainly most of the bill is for the connection, not the actual gas.
I still want to get my kitchen done. That will replace the gas cooking with electric, which will mean I can remove the gas connection completely. The way COVID is going, this may or may not be this year.
Hopefully many people are on a similar journey of cutting their household emissions – which helps to save money too.
Of course no matter what I do personally to reduce my emissions doesn't count for much if world governments and corporations don't also make an effort. That's the real challenge now.