A fare rise took effect from 1st January. It's usually more-or-less in line with the annual CPI to September the previous year – this time 2.3% against CPI of 2.9%.
CPI was so low in 2020 that they waived the increase in January 2021, but most other years they've done it.
I thought it might be interesting to track Daily metropolitan fares over time. Here they for the last 30 years: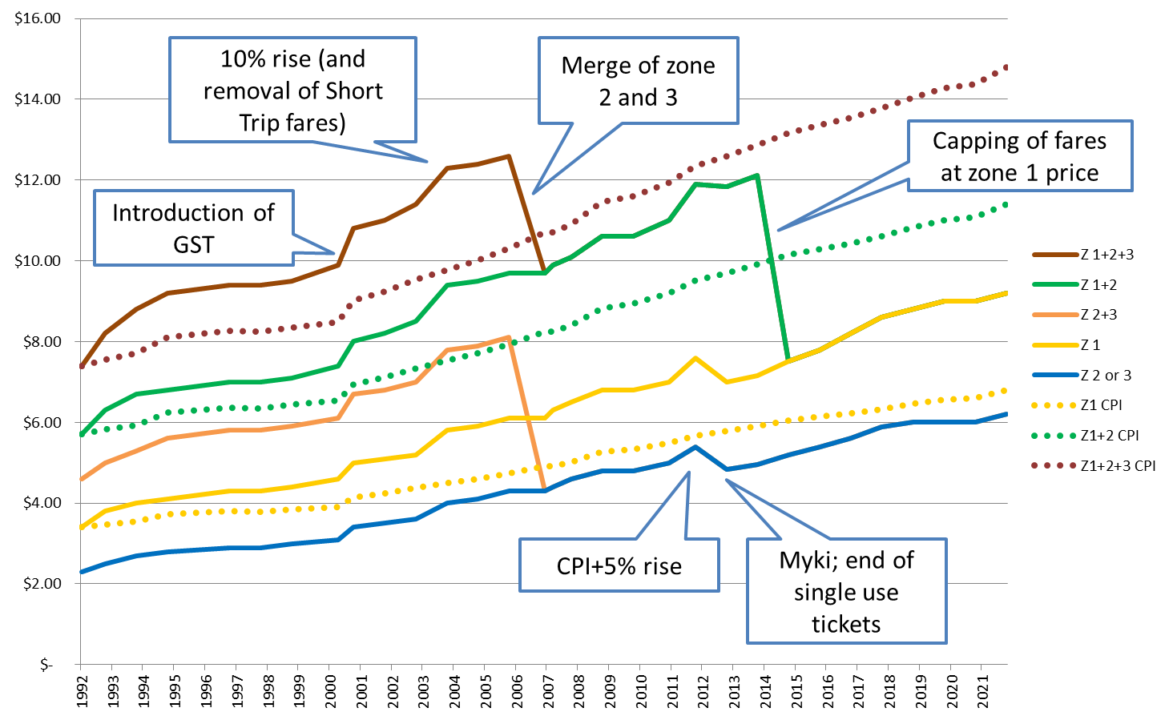 Some observations:
Edit 6/1/2022: Following some feedback, I've added dotted lines showing three of the prices since 1992, if they had strictly followed CPI.
As you can see from the Zone 1 price (yellow lines), fares rose well above CPI under both sides of government over the 30 years. The daily Zone 1 fare is now $9.60. It would have been $6.80 if it had followed CPI.
Two and three zone fare cuts in 2007 and 2015 have brought those fares back under CPI.
Over time the 5 different prices for different zones (6 combinations – zones 2 and 3 individually were the same price) have merged down to just 2.
Zone 1+2+3 daily fares peaked in 2006 at $12.60, then dropped in 2007 (with the merge of zone 2 and 3), before climbing again to $12.12… then dropped again in 2015 with the capping of fares at zone 1 rates. This also reduced prices for zone 1+2 trips.
2000 saw a bigger than usual rise thanks to the introduction of GST.
2004 saw another big rise when the then-Labor government brought in a rise of almost 10%.
The 2004 rise also saw Short Trip tickets removed, meaning some trips jumped from $1.80 to $3.00. Short trip tickets were kept for CBD travel (as the "City Saver" ticket) until that too was removed in 2012 when Myki took over. CBD tram trips were then made free in 2015.
There was another upwards bump in 2012, thanks to a policy set by Labor when in government, and implemented by the Coalition, of CPI+5% rises two years in a row. This was hidden in 2013 because by then everyone had switched to Myki – effectively making all fares subject to the 5 x Daily (or 10 x 2 hour) discount.
In late 2012, the Myki rollout was completed, and Metcard was switched off.
I don't know for sure, but I wouldn't be surprised if the CPI+5% rise was planned knowing that most people would switch to Myki's cheaper fares. Back in 2010 when Labor formulated the policy, Myki was intended to have a single use ticket. This option was removed by the Coalition, so it ended up being that everyone switched to Myki.
You might notice that the Zone 1+2 fare barely dropped with the shift from Metcards to Myki fares. Under Myki a multi-zone fare is the sum of the individual zone fares. This wasn't the case under Metcard – the final Z1+2 daily fare in 2012 was $11.90 compared to Z1 $7.60 and Z2 $5.40.
The Coalition introduced its own CPI+2.5% rises for 2015-2018, which were then in turn implemented by Labor.
For people who travel just in Zone 1, all these rises mean they've seen steady increases, without the benefit of zone removal/merger or fare capping.
The daily fare at $9.20 in 2022 is exactly 100% above what it was in 2000, against inflation over that time of about 70%.
The $9.20 fare is also the same as a Zone 1+2+3 fare was back in 1995.
The merging of zones and capping of prices means we now have a mostly flat fare system… which is good for those travelling longer distances… but bad for those travelling short distances.
It's very messy when you travel out of metropolitan Melbourne – there's a big jump in fare prices – so much so that in the past some people have gamed the system by trying to momentarily hop off the train in Zone 2 and touching off, then on again.
Room for reform?
There's been a lot of fiddling over the years – removal of zones, capping, over-CPI rises. Will we see genuine fare reform? For a while in 2021 there was an off-peak discount, which might have helped encourage patronage at those times, but was ended in August before things started to open back up.
While the government is looking at a change of ticket system operator, I suspect actually changing the fares or zones isn't near the top of the agenda at the moment.
The principles of the zones and timed fares are actually pretty sound, and easy to understand, but some adjustments such as moving to weekly capping (instead of pre-loaded Passes) and fixing pricing anomalies would be very welcome.
---
2018: A look at the price rise that year – noting that some Sydney short trips were half the cost of Melbourne
The PTUA view is they should replace the 7-Day Pass with a more competitively-priced weekly cap, and bring back the off-peak discount permanently