Good news: New bus route 627 starts in June, running from Moorabbin to Chadstone via East Bentleigh and Murrumbeena.
Excuse the micro-transport-blogging about this specific route in my local area, but (as usual) there are considerations that are relevant across the network.
This new route fills some gaps in the local network, including East Boundary Road (which is meant to be part of the Principal Public Transport Network, but currently has sections with no public transport), and sections of Tucker Road and Jasper Road. New bus stops are under construction.
The route will make trips to the huge Chadstone Shopping Centre easier for people in Moorabbin and parts of Bentleigh and East Bentleigh who currently don't have direct services – remembering that changing along the way is not a good experience given low bus frequencies, especially on weekends, which are the busiest shopping days.
The 627 will add another connection to the Frankston line from the Dandenong line, which can be useful when major delays (planned or otherwise) hit one line or the other, and it'll serve the new McKinnon Secondary campus, though it won't connect to the existing campus.
It adds to frequency on about 3.5km of route 822. (It also shares parts of routes 701 and 703, though not really in a way that adds very useful frequency.)
It runs more frequently on weekends than many other suburban bus routes: every 40 minutes instead of the typical hourly frequency. It'll mostly run half-hourly on weekdays.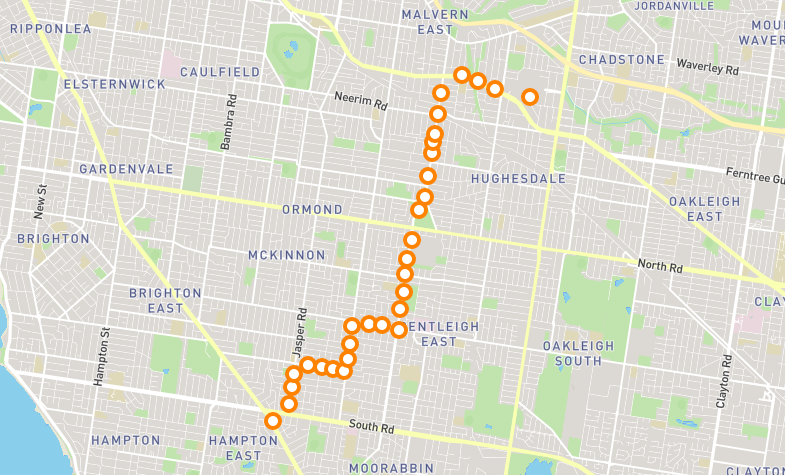 The bad news: The route structure is a zig-zag. Not particularly intuitive. This is partly due to challenges with the T-junction at the southern end of Tucker Road.
This route has been laid over the existing local bus network, without any other changes. Ideally this would have been an opportunity to straighten out route 822 to run along East Boundary Road, with this new route filling the gap, and/or straighten out route 626 along McKinnon Road (so that route could connect the two McKinnon SC campuses).
Combined timetable
I wanted to talk in detail about the timetable.
The new 627 adds useful frequency to the section of route 822 between Chadstone and Leila Road (and as far as south as Centre Road if people can walk for a few hundred metres).
But the timetabling doesn't make the most of this.
If I were planning it, I'd be particularly careful to aim for even frequencies southbound, departing from the most likely trip sources on the shared section: Murrumbeena station (particularly on weekday afternoons) and Chadstone (particularly on weekend afternoons).
Ideally northbound frequencies would be as even as possible too of course, but this is a secondary priority, since people can more easily time their departure from home. Timing your connection from a train arriving at Murrumbeena, or the arrival of another bus or the end of your movie at Chadstone, is a bit harder.
Unfortunately the planners haven't quite hit the target here. Here's how the combined service looks at Murrumbeena southbound on weekdays after 3pm:
3:13 (822)
3:23 (627)
3:43 (822)
3:54 (627)
4:14 (822)
4:24 (627)
4:43 (822)
4:55 (627)
5:18 (822)
5:25 (627)
5:48 (822)
5:56 (627)
6:19 (822)
6:26 (627)
6:45 (822)
6:55 (627)
7:14 (822)
7:28 (627)
7:48 (822)
7:58 (627)
8:28 (627)
8:44 (822)
9:04 (627)
9:28 (627)
9:37 (822)
10:04 (627)
10:47 (822) (last bus)
Trains are every 10 minutes or better until 10pm, so the aim isn't for buses to meet specific trains, but instead to provide a good frequency so that nobody has to wait too long for a connection.
Instead the combined bus departures are irregular. At the commuter peak, gaps vary as widely as 7 to 23 minutes. Not so good.
Given a total of 4 buses per hour, a consistent 15 minute combined service would have been better. (Back in the 1980s, the predecessor to the 822 was the 655, which ran every 15 minutes in peak as far as Stockdale Avenue, East Bentleigh – a bit further than the combined 627/822 route will run.)
These shortcomings aside, there's a clear opportunity to grow commuter patronage to and from the station, which is great.
The last two bus departures for the night are scheduled 5 minutes after (then not so frequent) train arrivals – which is good – even better if bus drivers can wait a little while if the train is late.
There's a quirk with travel time.
On the new route 627, Chadstone to Murrumbeena is timed at 7 minutes.
On the older route 822, it's 9 minutes… despite the two routes being identical on that section. And there's a similar discrepancy in the other direction.
It appears route 822 hasn't been re-timed since the level crossing was removed and the route was straightened out to avoid the side street detour so it could stop outside the old station. That's an issue which affects many routes serving stations rebuilt through the Level Crossing Removal Project.
Weekends
How does the Saturday afternoon shopping rush look from Chadstone? Much better: each bus leaves every 40 minutes, and they're pretty evenly spaced until 5:31 when the 822 drops back to hourly – then it's a bit messier, for instance both routes are timed to depart at 6:11pm.
And weirdly, the 627 gets more frequent after 7:30pm.
2:11 (627)
2:29 (822)
2:52 (627)
3:09 (822)
3:31 (627)
3:51 (822)
4:11 (627)
4:31 (822)
4:51 (627)
5:11 (822)
5:31 (627)
6:11 (822)
6:11 (627)
6:51 (627)
7:11 (822)
7:31 (627)
8:04 (822)
8:06 (627)
8:36 (627)
9:00 (822)
9:06 (627)
9:36 (627)
10:00 (822)
What about Sunday afternoon from Chadstone? Not so good – route 627 is every 40 minutes, but route 822 is only hourly, so it's messy.
2:08 (822)
2:11 (627)
2:51 (627)
3:08 (822)
3:31 (627)
4:08 (822)
4:11 (627)
4:51 (627)
5:08 (822)
5:31 (627)
6:08 (822)
6:11 (627)
6:51 (627)
7:08 (822)
7:31 (627)
8:00 (822)
8:06 (627)
9:00 (822)
9:01 (627)
10:00 (822)
The obvious solution would to upgrade the 822 to match the 40 minute frequency on Sundays, and to also tweak the weekday timetables to match better.
Shared stops?
No doubt along the common part of the route, the two routes will share stops, including at Murrumbeena station.
At the Chadstone bus interchange? Unclear. Hopefully either a shared bus bay or adjacent bays.
Route number
Another point: Why was the new route given the number 627?
627 used to be the number used for what is now the 625 and 626 when they were one, long, confusing route.
Would it be better as, say, 820, to help sell the shared section with 822? (The route numbers 821, 823, 824 and 825 are already taken.)
Or are there future planned network changes that are coming into play here?
The big picture
I've focussed on a local route, but the same principles apply across the public transport network.
The addition of extra services (and extra service kilometres) is very welcome. But as I noted in a 2014 blog post, these upgrades should not be planned in isolation.
The real aim is to help each new upgrade improve the overall network.
While the bus system needs more resources, there are lots of gains to be made from reviewing and revising the network: moving towards direct routes, where possible along main roads, and using the efficiencies gained to increase frequency.
The patronage growth in Smartbus routes shows this works, but it's also been shown in other areas such as Brimbank.
The windy indirect routes are not useful to most people – and as this Twitter thread shows, it's something of a myth that buses that stop everywhere suit people with limited mobility.
Monday's State Budget provided not a lot of new funding for buses, so it makes sense to ensure the network is as efficient as possible at meeting suburban travel demand.
Hopefully this new route will help, and other upgrades will follow.