It's the end of the year, so I'm going to clear out some blog drafts, snippets of writing, going back a bit over a year.
The Great Australian Transport Dream
If the Great Australian Dream is home ownership, preferably a quarter-acre block with a huge backyard, then the Great Australian Transport Dream might be free-flowing traffic everywhere you go, and a car spot right out the front of wherever you're visiting.
Both dreams are dying, because they depend on space which is no longer available as our cities continue to grow.
In fact arguably if you want either or both of these, you need to move to the country, to a town or smaller city.
And yet our politicians still believe the latter is achievable.
Australia and the USA are perhaps the only places around the world where the illusion of sufficient road capacity for free-flowing traffic still persists. Perhaps the enticing hints of it that you see at night or early morning are what provides the illusion that it might still be achievable. It's not.
Most people prefer to drive? Well of course they do!
"But people prefer to drive!"
Well of course they do.
Investment since 1930 has been heavily skewed towards roads. Just look at how many railway stations opened between 1930 and 2010.
Most services are infrequent. Even on the train network, many lines run only every 20 to 40 minutes on Sundays, for instance.
Buses are even worse. Mostly hourly on weekends, and only every half-hour on weekdays – even in peak.
With so few frequent services, they should be co-ordinating timetables so things connect. But they're mostly not, or at least, progress is slow. (And even if the times line up, whether connections wait if delays occur is unclear. Even Metro's own shuttle services to Alamein and Cranbourne won't usually wait for late connections… to do so might caught the delays to cascade in such a way that the service won't recover.)
In fact, have you noticed how the train network (including V/Line) is moving towards a 10/20/40 minute frequency, but most buses are every 30/60 minutes? No wonder the timetables aren't synched!
We've got the bones of a good network. The infrastructure isn't perfect, but there's plenty of capacity outside peak times: track capacity, fleet, bus bays/stops/zones.
August 2018 timetable changes
The opening of the rail extension to Mernda triggered a range of timetable changes on trains and buses around Melbourne.
This follows on from train timetable changes last year on the Craigieburn and Sunbury lines, and tram timetable changes earlier this year.
PTV has a page summarising the changes which is worth a look.
Dandenong line evenings
The main change was extra evening services. Unfortunately this State government press release from 4/6/2018 over-reached:
Dandenong Corridor passengers will benefit from up to 80 new and extended services each week and a longer turn-up-and-go service frequency in the evenings, meaning trains every 10 minutes until 10pm on weeknights.
Most people would take that to mean that the trains are every 10 minutes until 10pm from the city. In fact it's until 9:33pm, then drop to every 20 minutes until about 10:30pm, then every half-hour.
Undeniably it's progress — previously the 10 minute service finished at 8:22pm. But it's not quite what was implied.
Newport lines
An extension of frequent services between the city and Newport better matches the promise:
Thirty-five new weekday services will also be added on the Werribee Line, and passengers at South Kensington, Seddon, Yarraville and Spotswood can catch a turn up and go service until 8.20pm on weekdays.
Bus connections
The principle of changing bus timetables when train timetables change is good one. In some areas, work has been done to align connections. This helps explain why some bus routes run every 20 or 40 minutes, in areas with trains every 20 minutes.
PTV: From Sunday 26 August, a number of bus timetables will change to keep them connected with new train timetables on the Werribee, Hurstbridge, Cranbourne, Pakenham and South Morang/Mernda lines.
I noticed one of the routes that's changing is local to me, the 701. So I took a look at the new timetable.
Saturday night 701 buses depart Oakleigh: 7:05, 8:11, 9:11. This appears to align with trains arriving 6:56, 8:06, 9:06.
Sun night 7:16, 8:16, 9:16, trains arrive 7:06, 8:06, 9:06. Seems okay (though connections at the other end of the route at Bentleigh are less good).
The great Bentleigh crime wave
I started writing this during the state election campaign. The Coalition campaigned strongly on crime, and even claimed Labor had cut police numbers in some areas, including Glen Eira. Labor claimed the opposite.
Is there actually a crime wave? Are home invasions up?
The Crime Statistics Agency says that overall crime was falling from 2008-2011, then headed upwards, peaking in 2016, but it's dropped again in 2017 — hopefully the start of an ongoing trend.
But Residential Aggravated Burglary is way up — almost doubling from 2008 to 2017. Local area figures for Glen Eira show this trend as well.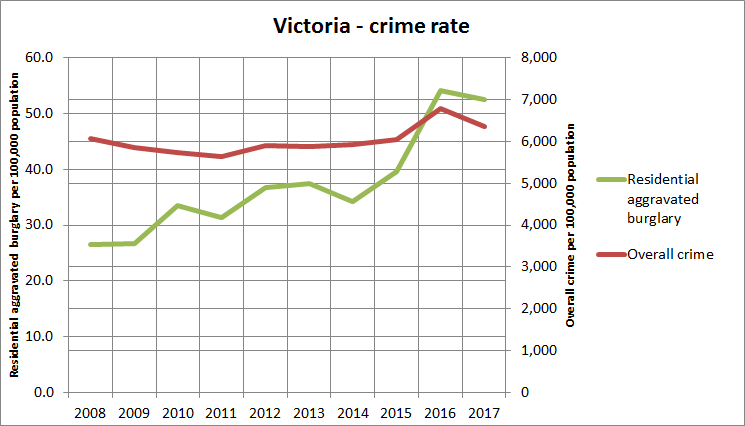 So there is some truth that some types of crime are increasing, while the overall crime rate seems to be dropping.
The problem with the stats vs the rhetoric is it's often a bit hard to pin something like this directly onto either side of politics. And not very helpful of course.
Bear in mind that the rate of recorded criminal incidents could go up as a result of better reporting. For instance we know that recorded offences rose over the period that Protective Service Officers were deployed onto railway stations. I'm not sure that would be the case for aggravated burglary though.
What about police numbers? Are they going up, or being cut? The claims above can't both be right.
Victoria Police employee numbers for June 2018 show a total of 14,476 Police Officers (Full-Time Equivalents) — this excludes 1,365 PSOs. In Glen Eira there are 93 police plus 8 public servants = 101 total.
The December 2014 figures showed a total of 13,135 Police Officers. In Glen Eira: 98 total (no breakdown). So to me, it looks like both are up, though not by very much in Glen Eira. And it doesn't seem unreasonable to deploy most new officers to other, growing suburbs.
In my experience, politicians don't usually lie. But they often do selectively cherry-pick statistics, and bend the truth. Usually somewhere in the stats, there's some basis, however tenuous, for a claim.
Is fear-mongering on crime even a good political strategy in a relatively safe area?
It might work in the areas that actually have big issues with crime, but I know some locals in my area who are entirely unconvinced by this.
I think my hunch proved right. The Vic Coalition's 2018 election strategy was a flop.
NE Link and the bus way
North East Link's latest costing is now an eye-watering $16 billion.
And a bus way thrown in, to provide fully-segregated bus lanes along the Eastern Freeway. This would bring some benefits… but… any busway on the Eastern Fwy:
puts at risk future rail
could be done without spending $16b on NELink
doesn't address where most Doncaster bus delays occur – between Clifton Hill and the City
Airport rail link
November 2017: Airport rail plan starting to move.
It'll still run via Sunshine/Albion, but importantly there's been a change of strategy: the latest thinking is making it part of a wider network upgrade that includes more separation of regional and suburban lines — the latter in the west is facing huge patronage growth due to urban development.
And the idea is that the airport service won't be a dedicated line with no other uses. This is good — as I noted when visiting London recently, specialised point-to-point express trains tend to be expensive and not used by many people.
Mind you, have you noticed how both big announcements by politicians about airport rail recently are both completely different from PTV's "long-term" Network Development Plan?
PTV NDP (2012): branch at Albion from the Sunbury (to Cranbourne/Pakenham via tunnel) line
The Coalition's plan before the 2014 election: branch at Albion from the Sunbury (to Cranbourne/Pakenham via Flinders Street viaduct 
Labor's plan now – apparently some kind of fast rail line via Albion, possibly as part of an outer-suburban connection to Wallan and Clarkefield, alongside upgrades to services to separate Melton and Wyndham Vale services from V/Line trains to Geelong and Ballarat
The details are very vague at the moment. It'll be good to see this plan fleshed out a bit.
 Assuming it's accurate, I found more useful info in the TV news stories (including this diagram) than any of the scarce official info released today. pic.twitter.com/7mh4PoeLZC

— Daniel Bowen (@danielbowen) November 23, 2017
"The CBD is at a standstill"
When you hear traffic/media reports that the CBD is at a standstill…
The reality is that those in the traffic are at a standstill. Sure, it's very visible. But if handled well, it doesn't actually affect the majority of people, because most people don't drive into the CBD.
Pedestrians can face congestion, but can mostly keep going – if they're able to walk around the illegally stopped cars on the crossings.
Trams often have some problems while diversions were worked out. Some bus routes can be affected by the rapid spread of car congestion, though some that are able to use tram lanes (such as across Queensbridge) can keep moving.
Trains keep running. In one case I've seen reports of cross-CBD car trips taking up to an hour. That's double the time it takes me by train from Flagstaff to Bentleigh (which of course includes crossing most of the CBD, underground).
Station incident, November 2017
You may have seen this footage:
 Protective Services Officers are at train stations to keep the community safe. Watch them save this lucky commuter. pic.twitter.com/vQ0xSjn64X

— Victoria Police (@VictoriaPolice) November 23, 2017
One report said the police was not naming the location, but… well, it's very clearly Windsor.
After the initial reports from channel 7, news.com.au picked it up.
Similar stories appeared in the Irish Independent and the London Evening Standard.
I will just note that some of the reporting got a bit muddled.
Australia has seen many incidents similar to this in recent times and nobody yet has died as a result, according to Public Transport Users Association spokesman Daniel Bowen.

"Platform screen doors are difficult to fit retrospectively, which is why they are being fitted on new lines like the Melbourne Metro for example, but not on existing stations," he told Channel 7.
What I actually said was that there had been incidents of prams falling onto tracks, but no deaths. I'm not actually sure if there have been fatalities due to incidents like this one.
Oh, and all those comments were made to news.com.au, not Channel 7.
Ads on public transport
How much money is handed over to provide ads on public transport vehicles and shelters? Quite a bit, though most pricing is not readily available in public.
Here's on deal from 2017 – it seems to refer to a bus stop shelter ad: $168/week +GST (minimum 34 weeks) – that's about $9500 per year.
Another price I found a while ago was ads on the back of a bus: $521 per week.
No wonder operators love that supremely annoying all-over-advertising. It must bring in a fortune.
Happy new year everyone!