It's been very busy the last week or two, which is why the blog has been a bit quiet.
Apart from the day job, this week I've been to two MTF transport forums (Melbourne, and Glen Eira), and a PTUA committee meeting.
There are more MTF forums (fora?) in the coming weeks, and if you're interested in this topic, they're well worth attending. Details here.
At the Glen Eira session on Wednesday, one of the panel members remarked that Caulfield station needs an upgrade, because it's the tenth most crowded station.
I agree on both counts! But as usual it can be useful to trace back the source of the information.
How did they know Caulfield is the tenth most crowded?
Because it was in this ABC story: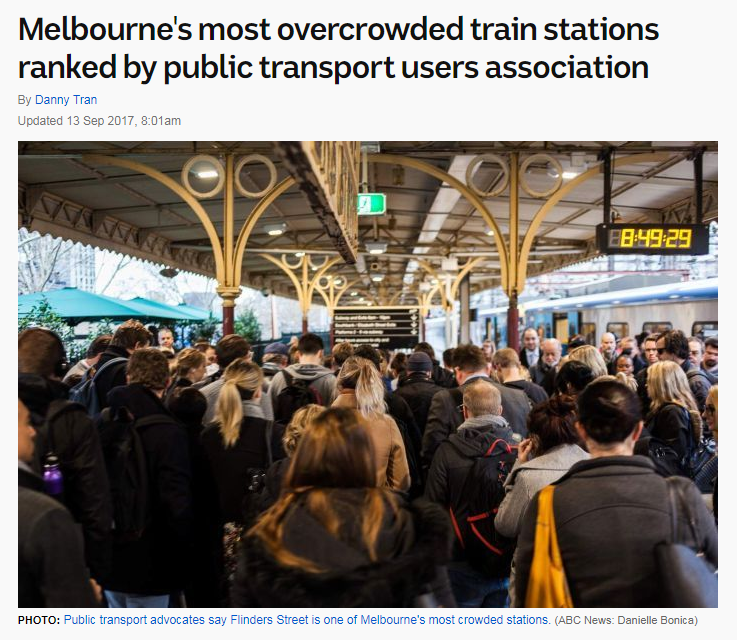 Where did the ABC get it? They asked the PTUA.
How did the PTUA calculate it?
Ummm… well…
There are different types of crowding: on the trains, and in and around the stations.
Some stations are particularly bad for train crowding. Even when the service is running well, it can be difficult to squeeze aboard at the height of peak hour. Typically these stations are the last "minor" stops before the inner-city, where the trains are at their most crowded. Hawksburn and South Kensington are examples of this.
At other stations, it's a struggle getting in and out because of constrained and crowded platforms, stairs, ramps, subways, entrances and exits. Flinders Street is an example, where during morning peak (when full trains arrive and disgorge passengers) the infrastructure struggles to cope with the sheer number of people exiting and interchanging.
At some stations they suffer from both of these problems. South Yarra, Richmond and others.
There's relief on the way for some of these issues.
Flinders Street has already gained a new exit to the river, and extra gates in the centre subway, with more changes coming.
A recent announcement revealed South Yarra and the adjoining tram stop will get upgrades — though given high-rise apartment development around the station, ultimately it probably needs a second (northern) concourse to take the pressure off.
The level crossing program can allow more trains to run if the busiest lines are largely free of crossings, and the newly rebuilt stations are typically more spacious and efficient for passenger movements. The first steps towards this are starting, with more evening (post-peak) services running on the Dandenong line from next week.
And the whole metro tunnel project is geared towards separating out lines to run more services to relieve crowding on trains, particularly on lines that currently share the Loop tunnels with the services that will use the new tunnel.
Getting back to that list. Can these factors be measured?
Train crowding yes, via passenger load surveys. Station crowding is more difficult.
So when asked "which stations are the most crowded", I looked at a bunch of factors, including observations and opinions from fellow passengers, but it wasn't a scientific or mathematical measure.
It's anecdata! And apart from South Yarra being nominated as the "worst", the stations weren't strictly ranked. But people love a list, even if it's not actually meant to be in a particular order.
So. Yeah. Caulfield, 10th most crowded? Well, kinda sorta!
With growing patronage and a future role as a metro tunnel interchange, does it need an upgrade? You bet!