I can't remember who asked the question, but it was a good one:
Which has more trains? The Upfield line or the Geelong line?
They're quite different rail lines.
The Upfield line serves Melbourne's northern suburbs, and runs via the City Loop. It runs electric Metro services through 16 stations (plus 3 City Loop stations). The route is 23km long, and takes about 36 minutes.
The Geelong line serves Melbourne's outer-western growth suburbs at Wyndham Vale and Tarneit (along with Deer Park, also on the Ballarat line) as well as the city and suburbs of Geelong, all the way out to Waurn Ponds. It runs diesel V/Line services. It's about 93km to Waurn Ponds via Regional Rail Link, also with 16 stations, taking about 75 minutes.
And the answer to the question? If I've got my numbers right, overall the Upfield line has more services each week: 749 vs 714.
But the Geelong line has more on weekdays (122 vs 108), and has a lot more services during peak.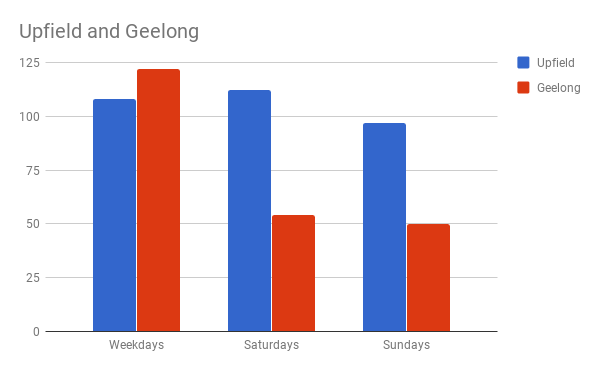 (Counts both directions. Night Coaches excluded. Night Network services were counted as part of the following day.)
Some things I noticed:
While the Upfield line peak is only three trains per hour (every 18-20 minutes), the Geelong line is more intensive, with 8 trains arriving at Southern Cross between 7:30 and 8:30am (some originating at Wyndham Vale).
The Geelong line is more tidal. Counting peak as before 9am, and 3pm-7pm, there are six more trains in the peak direction than counter-peak, meaning V/Line has to find central city stabling for those trains during the day. The Upfield line is balanced, partly because the peak service is basically no more frequent than off-peak.
On weekends there's no contest: the Upfield line runs every 20 minutes for most of the day, with the Geelong line at half that frequency — woefully inadequate for a train line serving suburban areas.
There are more trains in the evenings on the Upfield line, half-hourly, but not by much, as the Geelong line runs about every 40 minutes.
Monday to Thursday nights, the Geelong line has a last train that's far later than any Metro line: departing Southern Cross at 1:15am.
On the Upfield line, stopping patterns are fairly simple. Between North Melbourne and Upfield every train stops at every station.
The only variations are at the City end due to the City Loop:
some trains via the Loop clockwise (weekday AM and weekends)
some anti-clockwise (weekday PM)
and some direct via Southern Cross (Night Network, after midnight on Friday and Saturday nights)
There's a myriad of stopping patterns on the Geelong line, at least on weekdays.
Firstly, trains originate and terminate at: Waurn Ponds, Marshall, South Geelong, Geelong and Wyndham Vale, as well as a few running to/from Warrnambool — combined with varying platforms at Southern Cross, this leads to confusion for passengers at the Melbourne end looking for their next train.
Trains to Tarneit/Wyndham Vale/Geelong every 20 mins, from platform 15B, 2B, 5A, or 1. Hmm. #VLine #SoCross pic.twitter.com/3FaQV7lwMo

— Daniel Bowen (@danielbowen) June 25, 2015
And the station stopping patterns are all over the place. Just between Geelong and Melbourne inbound, just before 10am on weekdays, I can see:
All stations to Tarneit, then express to Sunshine
Express North Geelong to Lara to Wyndham Vale, then express Tarneit to Sunshine
All stations except Ardeer
Express North Geelong to Lara, and express Tarneit to Sunshine
Express Lara to Wyndham Vale, and express Tarneit to Sunshine
Express North Geelong to Lara, and express Tarneit to Footscray
Express Lara to Sunshine
Express Tarneit to Ardeer
Express North Geelong to Lara, and express Wyndham Vale to Footscray
Express Lara to Tarneit, then express to Sunshine
All stations (from Wyndham Vale)
Express Lara to Footscray
Express North Geelong to Lara, express Little River to Tarneit to Sunshine
Express Geelong to Footscray
Express North Shore to Lara to Wyndham Vale, and express Deer Park to Sunshine
Express North Geelong to Corio, and express Deer Park to Sunshine
Unless I've miscounted, that's 16 different stopping patterns in just the first 22 trains to Melbourne on a weekday. Amazing. It must confuse the drivers no end.
With all these variations, plus the line sharing tracks from Deer Park in with the Ballarat trains, and Bendigo trains from Sunshine in, it's no wonder the punctuality is a mess. For it to work, every train would have to be right on time, every time… which they aren't, because regional train designs are really slow for loading the large numbers of passengers who use these services.
The Geelong line has single track at the outer end, for most of the way from Geelong to Waurn Ponds, though this is set to be duplicated soon. For now though, it causes issues, including some counter-peak trains not stopping at Marshall because while there's a passing loop, there's no platform on it.
The Upfield line's single track is also a bottleneck. So you'd think it would be a priority to fix? But no — the recent Camp Road level crossing removal (costing around $85 million) made provision for it, but didn't actually fix it.
The single track doesn't just make running frequent services difficult; it also means any little delay can quickly snowball – and to avoid this, Metro will often terminate/originate trains at Coburg instead, leaving a big gap in services between Coburg and Upfield. This just yesterday in morning peak hour, following an earlier disruption:
Upfield Line – Major Delays – The 8:02 Upfield to FSS service has been altered and will originate from Coburg today at 8:13. Next train departs Upfield at 8:20

— Not Metro Notify (@NotMetroNotify) May 7, 2018
Despite this, it is actually possible to run more trains on the Upfield line, every 10 minutes as far as Coburg. How do we know this? Because it happened during the 2006 Commonwealth Games to better serve venues at Royal Park. These days there'd need to be some jumping through hoops at the city end, since the Northern Loop is full until the Metro tunnel is completed, but some trains direct into Southern Cross would be possible.
Changes coming?
Regional Rail Link brought trains to Melbourne's outer west, but brought with it the challenges of services for regional Victoria sharing with suburban travellers — something at which V/Line really hasn't excelled.
In the near future we'll get an idea of what the State Government has planned for the regional rail network. Separating it from suburban services — giving Tarneit and Wyndham Vale a Metro service — has to be a priority.
And hopefully the Upfield line (and all the other Metro lines) will get full duplication and frequent all-day services… in our growing city, this is nothing less than Melburnians need and should expect.