As expected, fare rises have been announced to take place on January 1st.
It's a rise of 4.7% — which is CPI+2.5%.
(At least, 4.7% is the claim. Some fares, such as a Zone 1 two-hour fare, are rising by more: $4.10 to $4.30 is almost 4.9%, thanks to the price being rounded to the nearest 10 cents… which makes no sense, because you can't directly buy these fares with cash.)
Just as this was emerging on Saturday, the Caulfield group of lines suffered major unplanned disruptions. Channel 9 was out for the fare rise story, but captured the train chaos as well:
Public transport users have vented their fury at the state government, as it quietly announced ticket prices will rise by almost 5% from next month. @andrew_lund #9News pic.twitter.com/RMYIE8ApJD

— Nine News Melbourne (@9NewsMelb) December 16, 2017
Here's the official PTV price list (which oddly doesn't list the Weekend/Public Holiday Daily Cap, believed to still be $6 adult/$3 concession, or the Seniors Weekday Cap, which in 2017 is $4.10).
Here's the State Government press release (which tries to temper the anger by announcing minor reforms such as free rides for primary school groups at off-peak times).
So how much have fares gone up over the years?
I thought I'd do a quick graph of the last 20 years.
Notable:
1998 and 2010 saw no rise, as prices were frozen those years
2007: Zone 3 is merged with zone 2, resulting in 3-zone trips dropping in price
2013: single fares (on Metcard) were abolished, switching everyone to the slightly cheaper Myki fares, which were equivalent to 10×2 hour discounted fares under Myki
2015: Zone 1 and 2 fares were capped at zone 1 rates, resulting in 2-zone trips dropping in price to the nearly-flat fares we have now
What if we look at the rises in those fares, and compare them with CPI?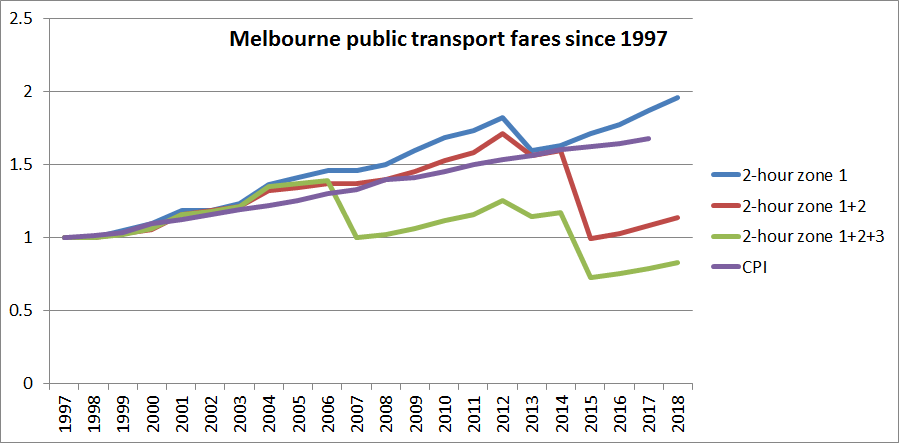 2004 saw a whopping 9.8% increase in fares, about three times CPI, the same year that Short Trip tickets were abolished, resulting in a huge jump for non-CBD short trips
2012 and 2013 saw rises of CPI+5%, budgeted by Labor, implemented by the Coalition
2015 to 2018 saw rises of CPI+2.5%, budgeted by the Coalition, implemented by Labor. What a team.
As you can see, for trips formerly covering three zones, these are still cheaper (just) than they were before 1997. Two zone trips are still relatively cheap, rising at well below CPI.
Zone one trips were tracking a bit above CPI until 2012, but when Metcard was abolished the switch to bulk rates brought it back down pretty much in line with CPI since 1997. Rises since have it well above.
There are still Ways to save. Options include Earlybird, and Myki Pass if travelling most/all days of the week. In fact you can buy a Myki Pass before January 1st and pay the pre-rise price, then use it later.
Additional fare revenue adds up to a lot of money, which can go into upgrades — we all understand that.
But the fare changes to a largely flat fare have resulted in some people benefitting enormously with fairly cheap fares for long trips, at the expense of others, who are paying a lot for short trips.
Upgrades to infrastructure and services are important to get more people using public transport. But affordable fares are also important — with repeated above CPI rises, for many people, this is going backwards.
With this fourth CPI+2.5% increase, Labor implemented the Coalition's budgeted rises. They can argue that if they hadn't, they'd have had to find the money elsewhere. Question is: what will happen next?