Bentleigh state MP Nick Staikos has released a map of a proposed new bus route, from Moorabbin via Bentleigh and Hughesdale to Chadstone:
Releasing a proposed new bus route for discussion. What do you think of this #Moorabbin #HamptonEast #Bentleigh #EastBentleigh #McKinnon? pic.twitter.com/tf2w2wIM6a

— Nick Staikos MP (@NStaikos) August 27, 2017
As I see them, the pluses:
A route along the southern end of Tucker Road, filling a current north-south gap
Ditto a gap filled along part of East Boundary Road, close to a lot of new houses and the Virginia Park re-development
If timetabled smartly with route 767, improves overall frequency along Poath Road feeding into Hughesdale station
Also improves frequency along South Road from Moorabbin Station to Holmesglen Moorabbin campus and new private hospital, alongside routes 811/812 and 824.
…as well as providing a service to the Holmesglen campus from the north, currently difficult to get to for some local residents
Makes Chadstone more reachable from parts of Bentleigh that currently don't have a direct public transport connection
Serves Tucker Road Primary School
But it's not perfect:
Runs close to McKinnon Secondary College, but doesn't greatly enhance connections to the school from within its zone, which is predominantly to the east and west of the campus — and may stretch further east if the new (additional) campus is at Virginia Park
In fact it won't connect the proposed new campus with the existing one; it falls short by a few hundred metres
Zig zag route is difficult to memorise and understand (a problem shared by the existing neighbouring routes 701 and 626)
Zig zag routes also mean that trips that are very logical and quick by car or bicycle are very slow by bus, for instance from the southern end of Tucker Road to the northern end is only a few minutes in a car, but would involve two buses (and we know how appalling connections between infrequent buses can be)
The problem is that, apart from filling a couple of gaps, this new route hasn't really been designed within the broader context of the existing routes.
I'm told there will be consultation, which is good, but so far it hasn't shown up on PTV's Get Involved web site — which I hope it would.
Here's what I'd do
For a moment, let's leave aside the question of whether the 822 should be moved to East Boundary Road (yes it should, alongside other changes as part of a broader plan).
And let's assume the funding for this new route has it operating at the same sad frequency as most existing local routes: every 30-60 minutes (there are no service frequency or operating hours details yet).
Here's what I'd do: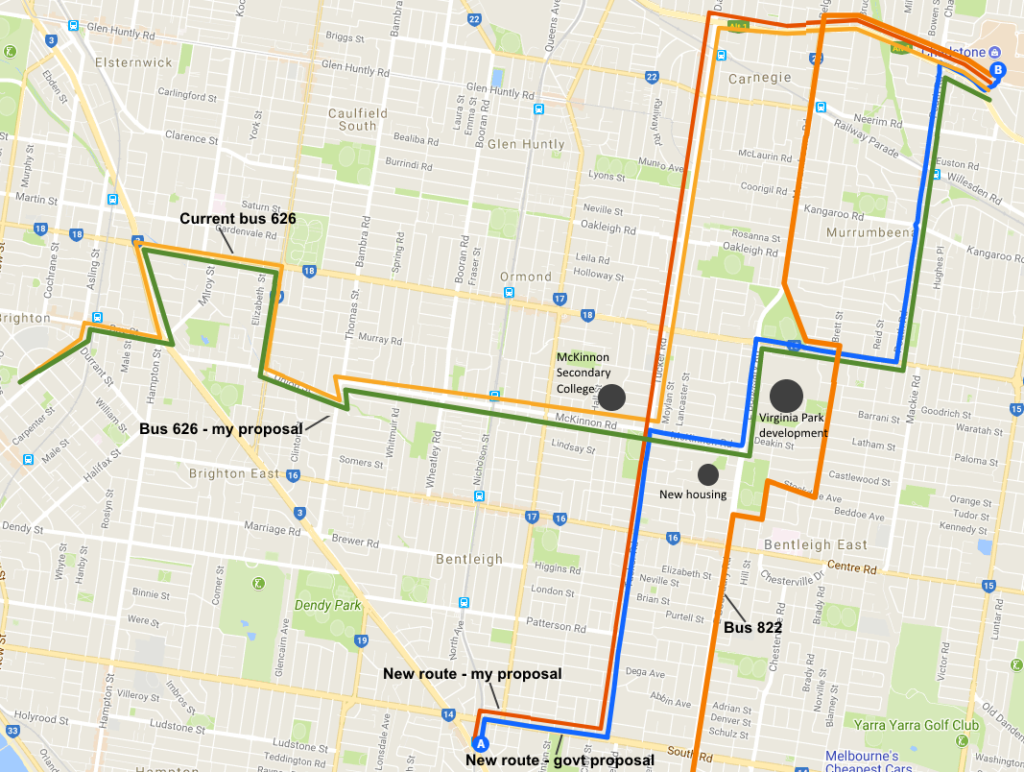 (View on Google Maps. I've deliberately drawn most of the lines not precisely on the roads, to keep them separate for legibility.)
I'd swap the eastern part of 626 with the northern part of this new route.
Both routes would have some of the kinks ironed out, and be more logical and easier to remember.
This means the 626 would become an east-west route from Brighton to East Bentleigh, then up to Chadstone.
This connects residents in McKinnon with Duncan Mackinnon Reserve and GESAC – not just a theoretical benefit, this was explicitly requested by local residents at a local bus forum last year.
It also connects the two campuses of McKinnon Secondary College, and makes the main campus more reachable from more locations within the school zone
And it means a quicker/more logical train connection for residents at the eastern end of McKinnon Road; handy if they are going to Southland or other destinations on the Frankston line, or for that matter towards the City
The New Route would become a north-south route from Moorabbin, direct up Tucker Road and Koornang Road to Carnegie, then to Chadstone. Again, more direct, easier to remember.
From McKinnon and Carnegie, better access to the Holmesglen campus, which is currently very easy by car, but really difficult by public transport
Existing 626 users from Carnegie and areas north of McKinnon Road would simply see a route number change, but would gain easy access to Moorabbin Station at the southern end of their bus route.
Both routes would still go to Chadstone at the northern end, so no practical change for most users from the western end of 626
Also: the 822
Another positive change would be to divert the 822 off Marlborough Street to East Boundary Road for a quicker, more direct run, and have the 626 run around GESAC to Marlborough Street and provide the service there. The northbound turn from Marlborough Street right into North Road could be problematic however if the intersection isn't signalised, and there might be other minor changes needed on East Boundary Road.
(As you can see from the map, the 626 is already quite a squiggly route at the Brighton end, thanks to Brighton's NIMBYs having campaigned to get the buses removed from Union Street and Landcox Street, and Vicroads' reluctance to alter Nepean Highway to allow westbound buses to use Union Street. The 822 in contrast has the potential to be a good quick direct service. Marlborough Street is the route's only current very slow section.)
Any thoughts?
Some have made the point that the area may not need a new route; that we do need increased frequencies and operating hours on the existing routes — this is certainly true. The 703 is overcrowded at times, and has a very poor evening service after 7pm, and on weekends. Other routes are mostly the bog standard 30 minutes weekdays/hourly on weekends and evenings — the 822 and 767 in particular are worthy of upgrades to cut waiting times and get more users.
This proposed route? Good, but with some tweaks, could be better.
Thoughts? Post them here, and/or get involved in the public consultation — details to come.
Update: Public meeting at St John's Church (corner Tucker and Centre Roads), 7pm Wednesday 27th September.
This morning's Bentleigh flyer from @NStaikos – Happy Birthday new stations / have your say on a proposed new bus route ? pic.twitter.com/H9cfupZG5w

— Daniel Bowen (@danielbowen) September 3, 2017