Last year, rail under (trench) and rail over (skyrail) options were presented for Cheltenham and Mentone. On Monday the government announced both would be rail under.
As expected, the Park Road crossing in Cheltenham (just a stone's throw from the Charman Road crossing) is being grade separated as well. Latrobe Street, a minor crossing south of Cheltenham, is staying for now, even though it may have made sense to close it to cars.


(From the Level Crossing Removal Authority web site)
There are of course pros and cons to rail under.
Probably higher cost, but possibility of building over the rail line ("value capture") later — as proposed but not yet implemented at Ormond.
More disruption during construction. Expect a lot of road closures, and of course extended rail closures between Moorabbin and Mordialloc when they dig it all out. Unfortunately this will affect the new Southland station just after it opens.
Certainly more compulsory acquisition around Cheltenham. 32 properties are set to be demolished — far more than would have been needed for rail over.
The third platform at Cheltenham can currently handle trains to/from the City only. This will be upgraded to also link to the Frankston-bound tracks, allowing more operational flexibility. It might result in some consistency in short Frankston "stopper" services in peak, which currently start/end at a variety of locations: Moorabbin, Cheltenham, Mordialloc, Carrum.
Three pedestrian overpasses around Mentone, but two of them (at the shallow ends of the trench) will have extremely long ramps.
There will also be a big loss of trees — the options assessments last year forecast significant removal of trees whether the rail line went under or over, but rail over provided more options for replanting afterwards.
There have been complaints about tree removal around Murrumbeena for skyrail, but it's worth remembering that the trenches at Ormond and McKinnon in particular resulted in a huge number of trees removed. Palm trees at Bentleigh got moved then put back, but other types of trees were simply chopped down.
Bike cages and bus stops? Locations aren't clear yet. Hopefully these will be moved as close as possible to the station entrance, and available as soon as stations reopen.
Some diagrams indicate at Mentone the bus stops may be left further away from the station than some of the parking, which is completely illogical. And Cheltenham could do with some consolidation of bus stops, though this is partly related to the problem of buses to Southland departing from various different stops — not so much of an issue once Southland station opens.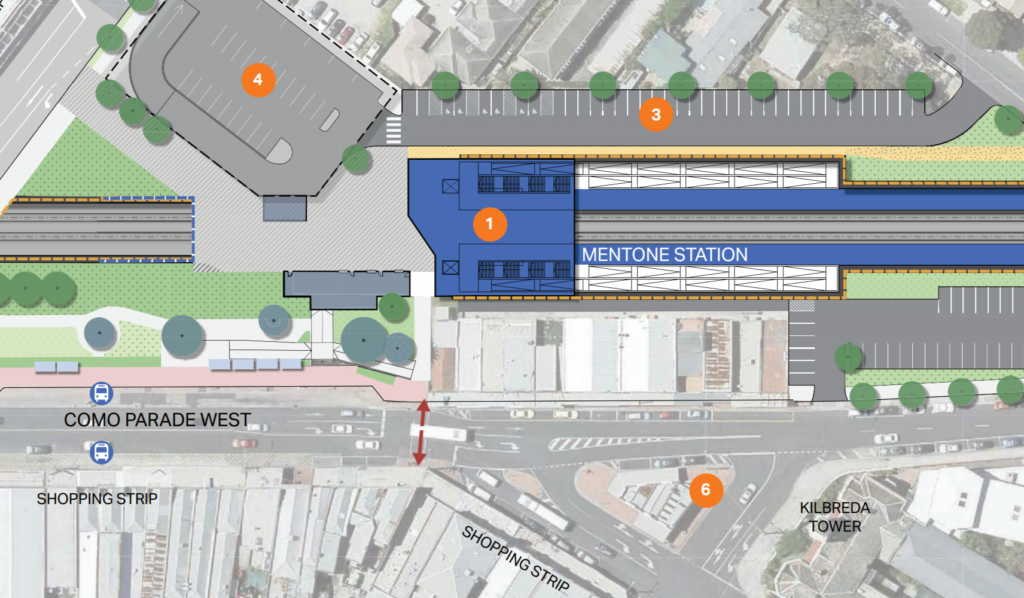 Station parking
At both locations they may get 4 storey car parks in the station precinct. It's unclear if this is to preserve current numbers of car spaces, or radically increase them.
Multi-storey car parks are extraordinarily expensive. The one recently built at Syndal cost an eye-popping $43,200 per space. And while it takes up less ground space than a single level car park, it's not beautiful, especially as they failed to activate the ground level for retail or other uses. It's not as tall as a 4 storey building, but it's still pretty tall, even compared to the elevated station.
A big increase in station parking would be a mistake. It would increase local traffic, and undermine other more efficient modes such as walking, cycling and feeder buses.
As with many suburban stations, the car parking is visually very prominent, but the number of people arriving by car is far outweighed by the number of people walking to the station.
At Cheltenham, 2013-14 PTV statistics say there were 3,240 boardings per day. 26.1% arrive by car, 60.3% walk to the station.
At the very least, Cheltenham will have car parking above the trench, along either side of Park Road. This could have been a good development opportunity.
Reaction
So the anti-Skyrail people got their way. I wonder how happy they are with the consequences for people whose properties will be acquired and demolished?
The Opposition of course… are opposed.
The Andrews Govt last year opposed rail under road as 'trenches' – today its announced as policy. How about a backflip on Werribee jail.

— Matthew Guy MP (@MatthewGuyMP) February 20, 2017
Right… but context is important.
One of the primary reasons for skyrail on the Dandenong line is to limit the disruption. Part of this was the gas pipeline underneath Carnegie, but also the passenger numbers.
PTV stats indicate around 64,000 boardings per day on affected part of the line, outwards from Caulfield. In contrast, south of Moorabbin there are 25,520 boardings per day.
It's a lot easier to shift 25,000 trips to buses around a 9km section of closed railway, than to shift 64,000 over 20km.
Interestingly, Cheltenham and Mentone are both within the strong Liberal seat of Sandringham, though the boundary with marginal seats is very close by.
Proximity to the beach and other geological factors may see the crossings further south result in a different solution. We'll see.
But hopefully — despite the big trenches to be dug at Cheltenham and Mentone — disruptions can be kept to a minimum.
Works will start in 2018.
More info: