I was pondering what benefit would the 67 tram gain from the Glenhuntly level crossing being removed?
Well thanks to the 37 day rail shutdown in July, we know.
Looking at punctuality figures for the last 12 months, this tram route achieved its highest figures for the year in July — in fact my little archive of Track Record figures indicates it's the best result since at least February 2009.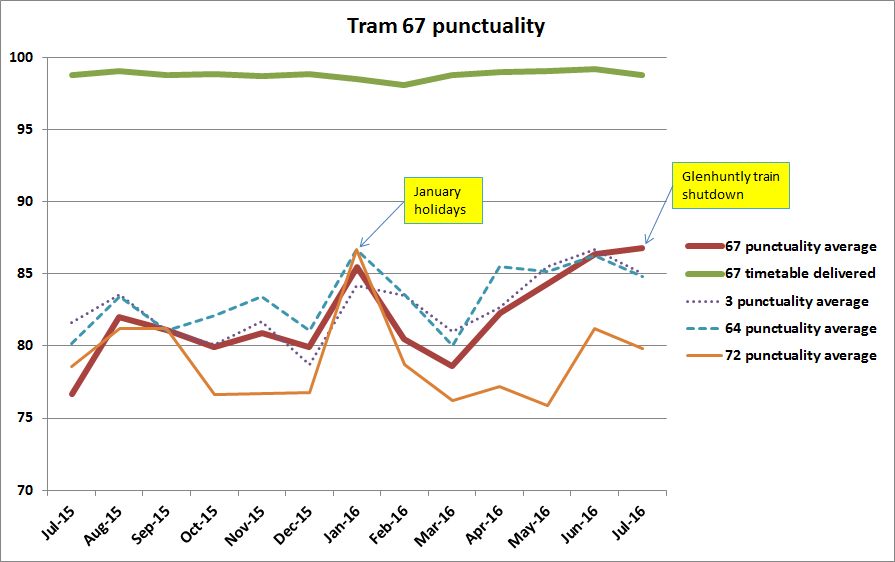 For comparison I've included similar routes in the area: trams 3 and 64, which share much of the track with route 67, but don't have any level crossings, as well as route 72.
Some other observations from the figures:
July punctuality was even higher than January, which is traditionally high due to quiet roads during school and university holidays. There was also a 9 day rail shutdown in January.
The second-highest figure was June, which included the early part of the rail shutdown (from 25th June) — which also coincided with the school holidays
The rail shutdown period resulted in heavier road traffic in the area. Some rail passengers switched to cars. Also notable were truck movements, and also bus movements, intersecting the tram line at Bambra and Grange Roads — this may have affected trams if Vicroads adjusted signal timing to assist buses. All this means tram punctuality might be even better with the crossing removed permanently and trains running.
All the tram routes on the graph show a similar pattern — with July 2015 and March 2016 being particular lowlights. It probably reflects the sections they have in common, along St Kilda Road and Swanston Street.
In most months, route 64 has the best punctuality figures. Unlike the others, it has dedicated lanes for most of its route, all the way from Melbourne University to the corner of Hawthorn Road in Malvern. It also doesn't run through any busy shopping centres; just some minor ones. It's still not outstanding though (peak from last 12 months is 86.7% in January), perhaps reflecting the lack of traffic light priority along the route — something in common with almost all tram routes in Melbourne.
The green line along the top is route 67 Timetable Delivered (aka the inverse of cancellations). This didn't seem to be affected in the same way as punctuality.
Route 72 until January included the Gardiner level crossing, since grade separated. As noted in a previous blog post, this has not resulted in a huge uplift in punctuality, but that route suffers severe traffic challenges along parts of its route, particularly in the Camberwell and Prahran shopping centres, arguably worse than the other routes shown. (Burke Road removal does seem to have improved train punctuality.)
We know from route 72 that level crossing removal won't solve all of a tram route's punctuality problems, but it does appear that removing the Glenhuntly crossing would help the tram a fair bit. It would also help trains (especially expresses), since they have to slow down when crossing the tram tracks — it's the slowest single point on the Frankston line.
And of course, level crossing removal also helps pedestrians, cyclists and emergency vehicles — as well as buses (on nearby Neerim Road, which would have to be done as well given its proximity) and motorists.
But to really speed up trams, we still need action on traffic light priority to reduce the red light time affecting trams.
Footnote: in the top photo, I broke my own rules about photographing LED displays; need a longer exposure time.
Buses along Neerim, North, Mckinnon and Centre Roads would also have been affected (with the latter three permanently benefiting from the project), but we don't know how much, because no punctuality figures are published for them.
Glen Huntly and Neerim Roads aren't on Labor's list of 50 crossings to remove by 2022. Personally I hope the community and governments (of both sides) will have got a taste for these projects, and they'll continue a rolling program of grade separation until all the worst ones, including these, are gone.