Posted 12/11/2014. Backdated to 7/11/2014.
On the morning of day two in Sydney, after a sleep-in, we breakfasted. I'd looked at UrbanSpoon and concluded that every venue reviewed has its share of whingers — it's a matter of identifying who is complaining about Real Stuff and who is complaining about trivia or a freak bad experience. The Royal in Darlinghurst seemed to have fewer whingers than praisers, so we headed there. They served up some very nice eggs on toast, and a (I'm told) superlatively tasty mushroom dish.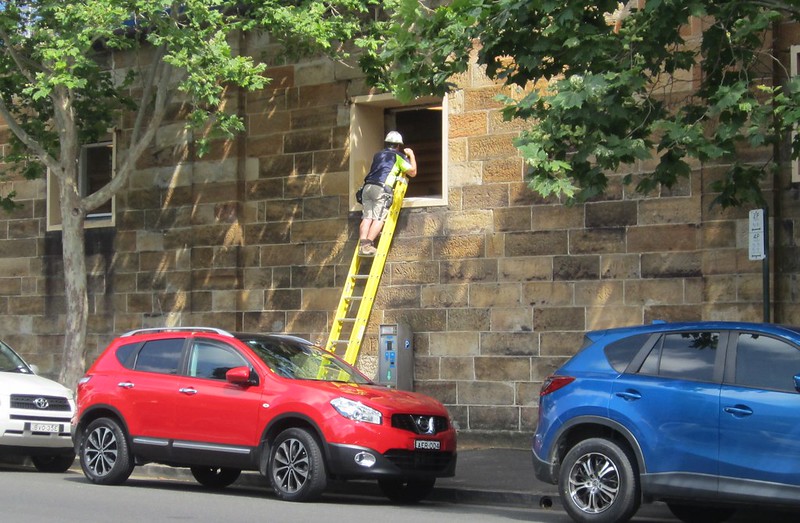 We then strolled the short distance through Darlinghurst (past the old gaol) to Paddington to have a look along Oxford Street. Although it's something of a traffic sewer, it's also got a lot of shopping. A specific shop was M's aim, and it did not disappoint — though we were highly amused when a delivery bloke asked if she was Judith Lucy. Despite only a passing resemblance, this is in fact a semi-regular occurence.
Next we walked to the Art Gallery of NSW, which on the map isn't very far from Kings Cross, but in practice involves cutting through numerous backstreets. Thank goodness for Google Maps and GPS on my phone.
The Gallery is in a spectacular building set in the gardens. We'd aimed to do this on a weekday as we wanted to look at the new "blockbuster" exhibition: Pop to Populism — I figured it'd be packed out on weekends.
It had all the greats of the pop art world… Andy Warhol, Roy Lichtenstein, and many others including Australians like Brett Whiteley and the not-as-well-known-as-he-should-be Mike Brown. I found myself admiring Brown's work "Hallelujah", which scandalised the art world in the late 60s, and then I remembered that he is Age reporter Clay Lucas's dad, so I couldn't resist letting Clay know they had four of his works on display.
In a neat coincidence the exhibit shop had Robert Milliken's book on rock music journalist Lilian Roxon on display, which has a section on the influence my dad played in her story.
We had lunch in the gallery cafe — delicious but a tad overpriced, as gallery lunches often are, but you can't help but hope the profits go back into the institution.
From there, a quick walk around the eastern side of the CBD, then back to the hotel. (Have I mentioned how handy it is staying in a hotel that, if it's not in the city centre, is at least close to a frequent fast train?)
The plan (on local friend KW's recommendation) was to see Sculpture By The Sea, an event on its final days, at Bondi Beach.
Given we were close to the station, the logical route seemed to be the train to the terminus at Bondi Junction, then the bus.
Bondi Junction wasn't planned to be the train terminus — various plans had it contining on to North Bondi and Rose Bay, or Randwick, University of New South Wales and Kingsford. Later proposals have suggested extending closer to Bondi Beach, but it hasn't happened.
While the terminus is well set up as a bus/train interchange (up the escalator from the platforms and you'll find yourself in a bus interchange, making transfers theoretically easy, unlike say Melbourne's Box Hill), there were so many people heading to Bondi Beach that the well-advertised route 333 bus connection had a queue of perhaps 150 people.
We joined the back of the queue, slowly shuffling along each time a bus turned up, which according to the timetable was every 10 minutes — on paper that's frequent for an Australian bus route, but in practice completely inadequate for the passenger numbers.
After perhaps 15 minutes (im)patiently queuing, it was our turn. I watched a bloke come up and queue-jump, and growled at him: "mate, the queue starts over there". He mumbled something back. He didn't back off, but he certainly didn't get aboard ahead of me.
The bus was one of the extended, articulated variety, and was packed to the gills. But at least I could overhear travel advice from that most reputable of sources — English tourists who knew their way around Bondi — so I knew which stop to get off at.
The queues for the bus back were just as crowded, as you can see from these pics. It seems to be a classic case of where the buses are inadequate for the loads — there's obviously scope to increase bus services, but in the long term if the popularity of Bondi Beach continues to increase, extending rail might make more sense.
It might also be possible to re-organise bus routes so that they duplicate the trains less. Many Bondi routes go all the way into Sydney's CBD. But the fare structure penalises bus/train transfers, so this is difficult. (I'll have more on that in my post about Opal and Sydney public transport.)
At Sculpture By The Sea some terrific artists display sculptures, as the event name would suggest, by the sea. It was busy, but not as busy as was expected on the closing weekend. (For that, authorities actually recommended people walk three kilometres from Bondi Junction instead of wait for a bus.)
Unfortunately one work had been removed due to vandalism, but there were still dozens on display.
As in any great gallery, there were some terrific works to admire and reflect upon, and it was a very scenic walk from Bondi Beach to Tamarama Beach.
Rather than walk back and catch the packed 333 again, we caught a local bus from Tamarama back to Bondi Junction station. It too was packed, but the bus driver managed to squeeze everybody on, rather than turn people away. From there a train back to the hotel.
For dinner we stomped around Victoria Street in Darlinghurst looking for something to inspire us, and eventually settled on Sel & Poivre, a French restaurent. All the wait staff seemed to have authentic accents, and the food was utterly delicious.
From there we had a walk around Paddington, and a long exploratory detour via Rushcutters Bay to get "home".