Last Wednesday in State Parliament:
The SPEAKER — Order! I have accepted a statement from Minister for Public Transport proposing the following matter of public importance for discussion:

That this house congratulates the coalition government for improving affordability, safety, reliability and punctuality on public transport, and its investment in rail and road infrastructure, and notes Labor's record of failure during its 11 years in office.
Yes that's right, the government moved to congratulate itself on transport.
It's only when you listen to Parliament or read the transcripts that you realise just how polarised the politicians from the two major parties are. Basically no matter who's in power, it's:
Government: It's all good!
Opposition: No, it's all bad!
Here are some excerpts from the Minister for Public Transport's speech, and a look at the figures backing them up:
Train crowding
I have the statistics in front of me in terms of the number of overcrowded morning peak trains: in October 2009 it was 42, in October 2010 it was 36 and in October 2013 it was 15. There are more people getting seats on trains now; the trains are far less overcrowded under the coalition government than under the Labor government.
If one looks at the overall network, then indeed the trend on crowding has been down. Here's a graph showing AM and PM load breaches. (The surveys are carried out each May and October. These figures are from each October.)
I think there are some problems with the government's claim:
Firstly, the reduction in load breaches was already underway before the November 2010 election.
Secondly, the fixes aren't instant. You order some trains, they take a few years to arrive and deploy onto the network, and only then do you see a reduction in crowding. To imply Labor did nothing and that the Coalition fixed it all is just plain false. Both sides can take some credit for buying extra trains.
Thirdly, the network-wide figures hide some of the detail. When you dig down (and by the way the Coalition deserves credit for publishing all the data), you will find that the Dandenong and Werribee lines haven't fared so well: in fact splitting out their figures shows both bottomed-out in October 2010 under Labor, before rising again under the Coalition: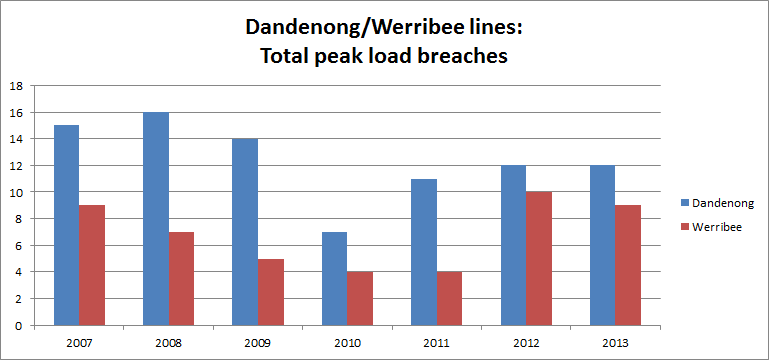 The Werribee line crowding issues are likely to be resolved by the Regional Rail Link, which will take Geelong trains off that line, allowing more suburban trains to run.
The Dandenong line? Well the growing crowding is why the Dandenong line upgrade project is needed. But how long it is until relief comes is anybody's guess. It'll be years away — well after this November's election, no matter who wins that.
Train punctuality
What the community has always asked for — and I know that the Labor government spoke about things that were not negotiable — is more punctual trains, and that is what we have been delivering. Year after year we have been working on getting punctuality up.

In January 2010, under the Labor government, 87 per cent of trains ran on time and in January 2014, 92 per cent of trains were running on time.
I blogged about this a few months ago… again, it's true that punctuality figures are up.
But just like buying more trains, these things take time to prepare. Most of the punctuality improvement was in early in the government's term, thanks to a timetable introduced in April 2011, the preparation for which was largely carried-out when Labor was in power (and, it's been suggested to me, that preparation started even before Metro came on the scene in late-2009).
Plus if you have an operator that regularly skips stops, and puts padding in the timetables, then you can expect punctuality stats to improve.
Here's another graph, showing how the timetables have been padded recently on the Frankston line. Is it reasonable to add running time if trains are always late? Perhaps, if the delays are due to things like consistently greater passenger numbers, and can't be resolved. But what if the extra time means trains regularly run early or have to sit idle waiting for the timetable? Not so good.
Safety and security
When you look at the customer surveys regarding satisfaction with personal security on Metro services, you see that 50.8 per cent of people said they felt safe in 2009-10 and that today it is 68.5 per cent of people.
He's got a point here. With deployment of PSOs, I have no problems in believing that many people perceive it to be safer at night than it was before, though those of us who have regularly used trains at night for years might say there's little real difference. And there is yet to be any clear evidence that it's resulting in more patronage, as hoped, or that overall crime has reduced.
Major rail projects
The award winning regional rail link project is being rolled out by the coalition government and is running ahead of time and within budget. There are 23 additional peak-hour services into the west and north-west and 10 additional peak-hour services into Victoria's regions.
…
Further improvements will also flow to V/Line as part of the $2 million to $2.5 million Cranbourne-Pakenham rail project — and of course the people of Pakenham get this fantastic new depot the size of AAMI stadium to house and maintain all of the trains. It is a great outcome.
Regional Rail Link was initiated under Labor, and substantially funded under Federal Labor. Would it have happened under the Coalition? Well certainly not if Tony Abbott had been running the country. What about the State Coalition? We'll never know — until recently apart from $500 million additional funding for RRL, they had not funded any really big public transport initiatives — the Dandenong line package has at last broken the ice.
The community should never trust the Labor Party with these announcements. It cannot be trusted with its alphabetical list of crossings it says are going to be grade separated. If members look at the figures for these particular grade separations, they will see that one works out at over $160 million, but the Labor Party says it is going to do them for $120 million each. This is not buying fruit; these are grade separations projects. They are tendered, they are highly competitive tenders and they do not cost $120 million each
This is something that still puzzles me, because the Middleborough Road grade separation (which included rebuilding Laburnum station) cost under $70 million in 2007.
The Nunawading project in 2010 cost substantially more — $142 million — but was a much bigger, more complex project. Even with the increase in construction costs, it seems silly to claim they all now cost $160 million, no matter how simple or complex.
And given Labor's plan is to do 50 in 8 years, there would be economies of scale coming into play — the same economies of scale that have resulted in two crossings removed at Mitcham in one project costing $140 million.
Conclusion
The full speech and the reactions are worth a read, but I can't possibly go into every point here.
There's no doubt the statistics for some of these areas look good, especially if one cherry-picks — notice no mention of cancellations?
But it's one thing to read out a bunch of numbers in Parliament and conclude everything's improved out of sight — it's another to look behind the figures at the real life experiences of passengers on the network.
Crowding and punctuality may have improved on paper on average, but there are still real problems in these areas on some lines, not to mention other issues such as service cancellations, late and infrequent buses, tram crowding and lack of on-road priority, poor connections, lack of real-time information, dirt and graffiti, late starts on Sundays, disruptions due to equipment and other faults… the list goes on.
There is some good news of course. Cancellations due to track buckling and aircon failures have reduced markedly, and some lines now have more frequent, less crowded services.
But to pat yourself on the back (and I'm not even sure what the point was) just seems a little bit out of touch with reality, and with public perception.
*Now checked against final (non-draft) Hansard.