Just a reminder that as noted last week, there are reduced train (and tram) timetables running from this week until Australia Day.
For my fellow Bentleigh people, I've marked the weekday cancelled trains for you: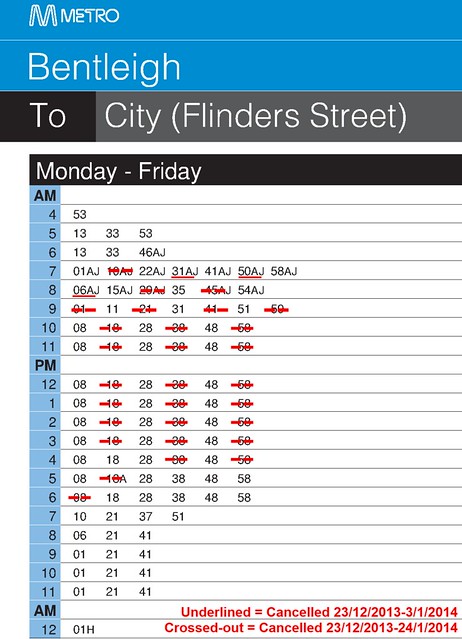 Basically for us on the Frankston line, train frequencies are halved at most times of day on weekdays for the next five weeks. Despite being politically sensitive, the Frankston line is the only one to have cuts in weekday off-peak hours.
Despite the claims, it doesn't appear to be operationally necessary to do this for works on the Regional Rail Link project.
It actually makes me wonder how much the government is saving through cutting services like this, and how wise it is to have the deepest cuts (bars those lines actually losing trains due to construction works) affect the line that runs through so many marginal seats.
You'll be wanting to check the timetable before you head down to the station.
And remember when the next election comes around that the government reduced your train service for over a month, causing long waits (and crowding?) while also raising fares.
By the way: it's easy to print your own personalised stop timetables (at least for the "standard" timetable), courtesy of the PTV (formerly Metlink) web site.