I spent about 4 hours in the roof on Sunday, with an industrial vacuum cleaner from Kennards, trying to clear out some of the residual insulation and other crap from up there.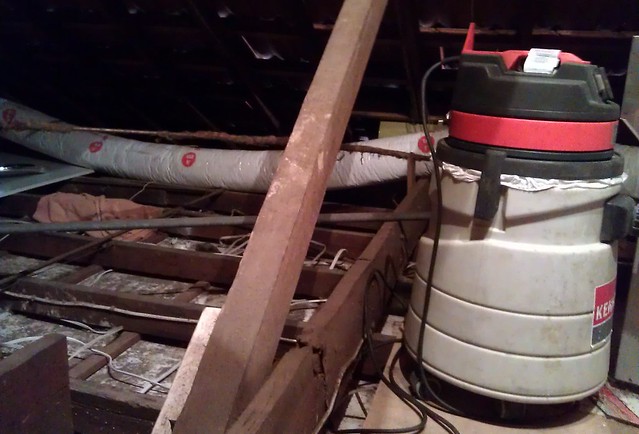 I had thought the half-day hire would be enough, but man, it's hard work manoeuvring around up there, let alone with a big vacuum cleaner accompanying you. The placement of the heating ducts didn't make it any easier, nor of course having to scrupulously step on the rafters, rather than putting my foot through the ceiling. Getting into some of the nooks and crannies was really difficult, particularly where the roof meets the ceiling.
Nor making it easier was that the vacuum cleaner's head didn't seem to want to detach from the wand, somewhat limiting the flexibility of the unit. I spent much of the time just waving the hose around.
It was quite exhausting, and by the time I had to take the cleaner back (it was $67 for a half-day, which in practice meant not just 4 hours, but 11:30 until 5pm; or $82 for a full 24 hours, but I wouldn't have had the time or energy to do it) I reckon I would have done about half the roof. I had however concentrated on the worst (dustiest) sections, including the outsides of the ducts themselves.
While up there I also removed any number of bits of junk that had been left behind by others over the years: numerous bits of wire, chunks of roof tile, and a 2 metre-long piece of pipe. There are a lot of other bits of disused pipe which will be somewhat harder to remove, and will require a plumber to be done properly.
The idea is to make it easier for the new insulation to be installed. The carpenter guy I've been working with takes the view that the cleaner/tidier the area, the better the job achievable, which is probably fair enough. Given how knackered I was, hopefully it's now clean enough.
All the effort certainly had one outcome though: I've decided no way am I going to install the insulation myself. It'll be well worth paying the pros to come in and do it properly, and avoid hours of frustrating, exhausting work.
I've also learnt that scrabbling around in the roof space exercises muscles which don't normally get used (and are still sore) and that I'm not very good at spelling vacuum.