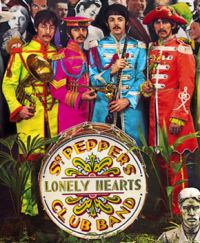 I was reading my old copy of The Beatles Recording Sessions the other day, in particular about the creation of A Day In The Life — which recently was voted number 24 in Triple J's Hottest 100 of All Time.
I was interested in the orchestral crescendo of sound halfway through the song and again at the end, but I also mentioned to the kids the "dog whistle" sound just after it. The book reveals it wasn't a real dog whistle, but a tone at the same pitch as a dog whistle.
Can you hear it?
Playing it, I can't hear a thing. Neither can Jeremy. But interestingly, Isaac can. Apparently at some ages, kids are able to hear those tones, and Isaac told me that one enterprising company sells such a tone as a mobile phone ring, which the kids can hear but their teachers and parents can't.
Speaking of Beatles, forty years ago on Saturday, the photo shoot for the Abbey Road cover took place. Apparently there are moves to remove the crossing… but in the mean time, you can view it live on the Abbey Road crossing cam.
Oh, and here's my not-very-well posed picture on the crossing from back in '98: