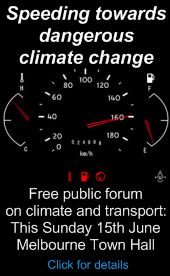 I just about punched the air when I read Elliot Fishman's great opinion piece in today's Age: RACV heading down the wrong road.
Elliot highlights some of the things I've pondered recently, such as the RACV's 2004 spectacularly wrong guess on oil prices, as well as pointing out the flaws in their calls for lower fuel taxes and encouraging biofuels.
The RACV has deceived its members by constantly claiming that petrol will not rise very much higher than whatever it happened to be at the time.

In the middle of 2004, for instance, it claimed oil had peaked at about $US44.50 a barrel and we would not need to pay much more than $1.08 a litre. With oil now around $US130 a barrel and the price at the pump exceeding $1.60, Victorians have a right to ask why the RACV got it so wrong.
It appears that the RACV aren't making the same kinds of medium-to-long term predictions at the moment. Instead they're acting with surprise: "It is unbelievably high. I can't believe they have gone that high" — David Cumming.
Elliot, as well climate-policy analyst David Spratt, transport energy efficiency expert Dr Patrick Moriarty, and some guy who is not called Damien Bowden will be talking at a free forum this Sunday at Melbourne Town Hall.
(I was wrestling with some slides last night in Powerpoint. Hopefully I've now persuaded it that I really honestly don't want it to check my spelling with the US English dictionary.)