The 2006 Australian census is tomorrow night, and once again participants have a chance to answer the religion question as: JEDI. Apparently 70,000 did last time (including me).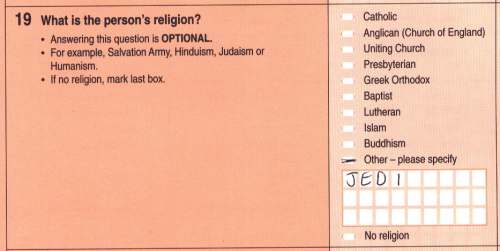 As the Australian Bureau of Statistics says: If your belief system is "Jedi" then answer as such on the census form.
Taking a look at the Jedi Code (at least, one of the versions), I think I can broadly commit to following it… though I'd probably do better if I was a vegetarian…
Jedi are the guardians of peace in the galaxy.
Jedi use their powers to defend and protect, never to attack others.
Jedi respect all life, in any form.
Jedi serve others rather than ruling over them, for the good of the galaxy.
Jedi seek to improve themselves through knowledge and training.
The ABS also says the data gathered is to ensure community resources are appropriately focussed. Well, I'm not otherwise religious, so I know I'm not robbing any religious organisations of funding by declaring myself Jedi.
So, why not?