Having claimed incorrectly the other day that telegrams have vanished off the face of the planet, it was with some surprise that I got home yesterday afternoon to find one in the mailbox.
Clearly they were still alive and kicking.
Was it a prank from one of you good readers?
Some message of congratulations for something?
Alas, no.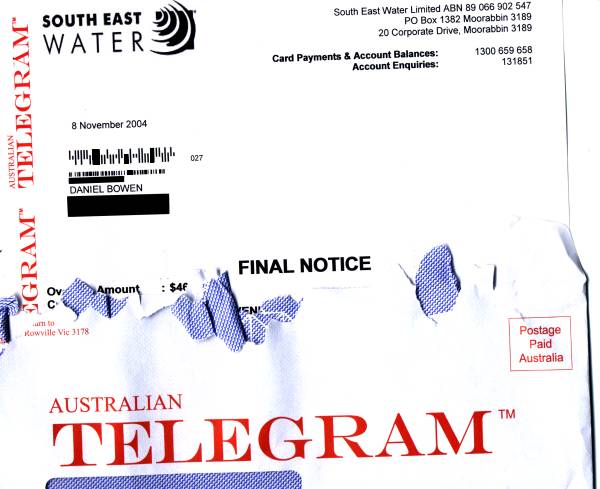 Merely a final demand from the water company for a bill I paid late on Sunday night. Like the gas bill (which I also got a reminder of after payment, by way of a conventional letter) it had lain in the wreckage that is my desk for several weeks. Oops. I really must start paying these things as soon as they arrive.
Oh well, added a much needed few milliseconds of excitement to the day, so I'm not complaining.
…
PS. Firefox 1.0 has been released :-)
It hasn't fixed my most annoying bug with the abbreviated tooltips :-(
Rae has gone offline :-(
These smileys are a bit too cutesy, aren't they :-D