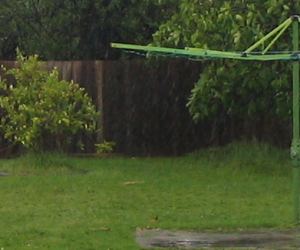 Pouring rain, strong winds… yesterday was a good day to test the capabilities of your umbrella.
I myself have a number of brollies. The new micro umbrella I keep in my briefcase is small enough to carry anywhere in a pocket, but not big enough to provide the best of protection from the elements. So I got out my slightly bigger umbrella for me, and two other little ones for the kids for the school run.
Obviously we weren't going to get the umbrellas out to do the run from the front door to the car, so we performed that like a drill: On the count of three… Go! Unlock car, around to boot, open that, bags in the back, close boot, everyone in the car, buckle up and off we go. Only slightly soggy.
We parked near school and did it again, but with the umbrellas. The wind was howling, blowing them all inside-out and back again. I got back to the car and in my haste to fold my umbrella as I got in, it bit me, drawing blood.
Ever wondered what happens in wet weather to people wearing those huge bell bottoms that drag along the ground? The water soaks up, utterly drenching the bottom six inches, that's what. The girl on the train was grinning and bearing it, but it can't have been comfortable. (Though not as bad as falling on your bum on a wet station platform, which I hear a certain person I know did…)
By the time I got into the city, the "Slippery When Wet" signs were out in the Degraves Street subway. Outside people were ducking and weaving along the street, and especially having to dodge the odd person with a massive golf umbrella. I don't know why some people have decided it's a good idea to golf umbrellas into the crowded city streets. Even on a day like this, they're just too damn big. I reckon leave 'em on the golf course unless you're trying to shield a group of people.
A colleague said as he walked up Collins Street, virtually every rubbish bin had a discarded umbrella in it, those which hadn't made the grade.
My umbrella passed. Not with flying colours, but it passed. C+. One of the little ones had done an okay job, but was found to have snapped a spoke. D- and off to that great umbrella stand in the sky.
(Oh joy, more heavy rain this morning… let's hope plenty of it is falling in the water catchments.)