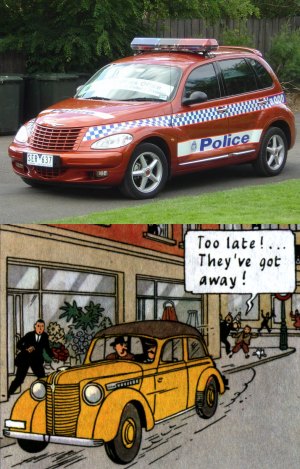 Spotted the Chrysler PT Cruiser Police Car in Collins Street yesterday. Some kind of initiative to help the police reach out to youth. Despite my joking on seeing it ("That'll get the glue-sniffers and vandals' attention! Hey kids! Stop spraypainting and check out our cool car!") hopefully it does have a positive effect. It is eye-catching.
I'm not particularly the type of person who pays a great deal of attention to cars. But I've always thought the PT Cruiser is an interesting design. It seems like it harks back to the 1930-40s designs. Reminds me of the car chase scenes from early Tintin books.
Behind The News was scrapped last year, but according to the media yesterday, is to make a comeback. It's not a show I believe I've actually sat down and watched in the past… ooh… twenty years or so. But I do recall it being an important part of gaining some awareness of the world from an early age. At primary school we'd crowd into the staff room (only room with a TV) every week to watch it, and Infinity Limited (the science show).
RIP the 69 tram from Sunday. Sad. No more silly "69 in St Kilda" jokes. This too takes me back to living as a kid in East St Kilda, riding the 69 down to the beach and back in the summer.