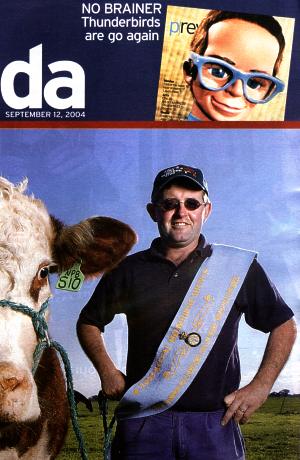 Ten points to the train driver the other night who announced something along the lines of:
"Good evening ladies and gentlemen. Tonight we'll be remembering the Thunderbirds. Shortly we'll be touching down at the planet South Yarra, where voyagers for Sandringham galaxy can change. Then we'll be travelling at warp speed, express to Caulfield, before visiting all star systems to far the distant planet of Cranbourne. FAB Virgil, and Thunderbirds are go!"
It had everyone smiling and laughing for a few minutes.
Speaking of the Thunderbirds, was amused to see the picture used on the front cover of The Age Agenda section last Sunday to promote the Melbourne Show, given the proximity to the Thunderbirds picture above. It's David Bolton and his prize cow Paige Carmina.
I wonder if he realised how much he looks like a Thunderbird?