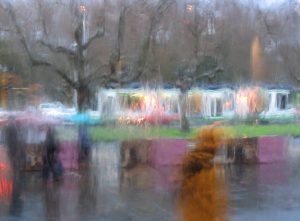 Saturday's trip to the National Gallery wasn't just a learning experience in art. We went along with X. X has cerebral palsy, meaning she is physically disabled. She's either confined to a wheelchair, or can use crutches, but at a snail's pace.
Okay I've wheeled around kids in my time, so I have some of the skills involved in looking out for ramps and lifts. This was a somewhat different experience however. On the plus side, unlike a baby, X is able to express herself clearly. But a fully-grown adult can't be lifted when it's convenient.
The gallery's special parking entrance, parking spots and admission queue bypass made things slightly easier, and were certainly appreciated, but there are undoubted challenges in pushing a wheelchair around a crowded gallery: looking for a gap in the crowd, ensuring X could see the captions and the paintings clearly, not bumping too many people…
It was a challenge, and while not unbearable, certainly made me appreciate my working limbs and the fact that I don't have to care for someone in this situation on a daily basis, let alone live with it myself. I didn't just learn about art that day.
[10th October 2004 — regretably the rest of this article and the comments have had to be deleted for legal reasons. At some stage in the future, they may return.]