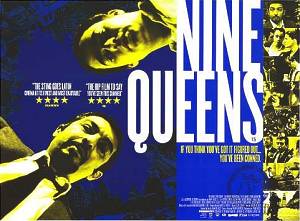 The problem with shopping on the Net on UK web sites is that prices in pounds make everything sound so cheap. So it was hard to resist the lure of three movies I kinda sorta wanted, at 8.97, 8.97 and 6.97 each. Bargains, every one! No, wait, that's UKP, dammit. Multiply by three, pretty much. Take away the VAT*, but add the postage. Still a bargain? Ummm…
(*Amazon UK subtract the VAT, as they should. Some other online shops pocket the VAT, which is naughty. They'd claim they're subsidising the international postage with the proceeds, but still…)
What finally swayed me to BUY! BUY! BUY! was that (a) I'm in a splurging mood (not sure why) and (b) while all three movies are available in Australia, two of them have features you can't get in the shops here. Yet again my multi-region DVD player pays for itself.
So, winging their way towards me are:
Y Tu Mama Tambien, the seminal Mexican road movie that I originally saw at the film festival in 2001. It was great stuff, and hopefully just as good on repeat viewing. The UK edition has a bunch of extra material that's not in the Australian one and, it's rumoured, a 64 page book to boot. £5.93 plus postage. Ch-ching!
Harry Potter and the Philosopher's Stone isn't available in Australia in widescreen. Well, unless you want to spend twice as much and get a crappy soundtrack CD that you'll never listen to. (Soundtrack albums only work if the music is significant in its own right. O Brother, Lost In Translation… now they were good soundtrack albums. Harry Potter? No thanks.)
Why widescreen? Why not? Mumble mumble original aspect ratio mumble cinema mumble mumble matches the Chamber Of Secrets DVD. Insert roll of eyes here if you don't care about this stuff. Actually the kids and I almost bought the full screen version of this last week on my day-off. We walked down to Dick Smith (the day's exercise) only to find they were out of stock. £7.63 plus postage. Ch-ching!
Nine Queens I also saw in 2001. It's an Argentine movie about a couple of con-men chasing a set of rare stamps. Really good stuff. As far as I can tell, the Australian release is the same, but it's cheaper buying it from the UK. Another £7.63 plus postage. Ch-ching!
It came out at about $71 for the three, including the postage. Not too bad. I'll be watching my mailbox in anticipation.
All this talk of movies reminds me, must look through the Melbourne International Film Festival programme and see what's worth seeing.