Guess who left the car window ajar overnight? Yup. Fortunately it didn't rain much this morning.
On the bright side, I managed to do a bit of time-travelling on the way home today. Something like this: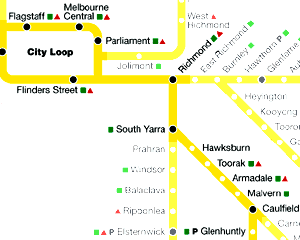 16:50. Get to Flinders Street, just miss 16:49 Mordialloc train leaving.
16:52. Deftly leap aboard an Alamein train direct to Richmond, to try and beat the Mordialloc train around the loop.
16:55. Change at Richmond. Battle past hordes changing onto platform. Must be some disruption in the loop.
16:57. Get onto Dandenong train express South Yarra to Caulfield. Read book (yes, I'm still going on The Crow Road)
17:03. About the same time as I see us overtaking a Frankston train at Armadale, I get an SMS from Connex to tell me that the 16:59 train I would have caught had I not indulged in all this rigmarole, has been cancelled.
17:05. Roll into Caulfield. Change platforms. One bloke looks very pleased with himself to be reaching the other platform in time.
17:07. Board the train we overtook at Armadale.
17:10. Get to Glenhuntly (which is not my usual stop, but was where I was going on this occasion).
So it was worth all that messing about, not just sitting down at Flinders Street to wait (and wait, and wait). The train after the cancelled one would have got me there about 17:40, so I saved about half an hour. Woo hoo!