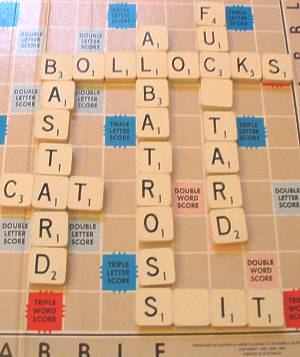 I've been playing Scrabble a bit. The word that got me winning the last game was "zebra", on a triple word score. 48 points, thank you very much… I think I had been trailing before that.
My sister is the demon Scrabble player from hell. Or so her reputation says. I don't know if I've played Scrabble with her since she moved overseas, but I'm looking forward to a game or two when she comes back.
My mum and Peter have been practising for her return. They tell me she beat them hands-down when last they played, so they're keen to increase their Scrabble skills in preparation for her return.
But they said they found the game a little dull. So they've beefed it up a bit. Presto… SuperScrabble. SuperScrabble involves using the letters from two sets (with appropriate removal of some of the more boring letters). And having two letter racks each, with a total of 14 letters. Which my mother tells me has allowed her to easily create longer words.
Such as "albatross".
Presumably the next step would be to expand the board. It depends on where you stop, of course, but taken to its ultimate conclusion, Scrabble could be played on a massive board, and take days to complete.
Me, I'm happy with my "zebra".
No the picture is not a real Scrabble game. Just me mucking about. And showing my lack of maturity, really…