Call me an old fuddy duddy if you like, but for the most part I still like the video and computer games of olde a bit better. Though graphics and sound have leapt forward over the past couple of decades, the quality of gameplay is the subject of some debate.
How playable is a game if you have to read the manual for ten minutes before you can figure out what you have to do? In the glory days of the arcade, it was as simple as: shoot the aliens; climb to the top of the girders; get the frog across the road and river. They needed to get you hooked in the first game, to keep you pumping those 20 cent coins in.
Nowadays they're all so complicated. Video game pioneer Nolan Bushnell lamented that the designers came up with games that were so complicated they required all your concentration to play — when the reality is, in a bar or arcade, while you're playing, you're probably sipping on a drink and chatting to friends too.
He also points out that because striving for technological complexity has driven development costs through the roof, a lot of the innovation has vanished from the games industry, with most new ones being first-person shooting games or driving games.
…if you really look at the games that have been developed for the arcade business in the last five years, you see driving games and you see shooting games, and very little else. With the driving games, sometimes you're driving a car, sometimes a bike, sometimes a truck, or a snowmobile, but they're still damn driving games.
– Nolan Bushnell, Edge magazine's retro gaming special 2002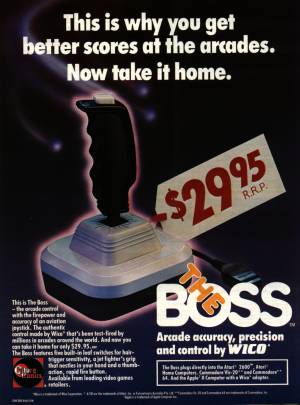 The controls are more complex these days. Back in the olden days it was a single joystick and a button. Maybe two if pressed (Robotron excepted). The standard controller on the XBox has no less than three joysticks, and a multitude of buttons on it. This seems overly complex to me. What game would require me to go in three different directions at once anyway?
That said, the XBox is a heap of fun to play. Midtown Madness 3 is a lot of fun. Some spectacular graphics, and the freedom to cruise around like a maniac, or drive in races like a maniac. Hell, you can even do an Henri Paul and go zooming through the tunnels of Paris weaving around at a stupid rate of knots before hitting a wall, with the only result being some wobbles from the force feedback on the controller.
I'm rationing my game purchases to one per month, which gives me plenty of time to read the reviews and work out what's good value for money. Next in the queue is Harry Potter/Chamber of Secrets, which looks good. I've thought about buying Elder Scrolls 3 (for myself, not the kids, since it's M rated), but I'm hesitant because it looks rather too addictive, promising to suck away time I don't have.
So far the only other release I've bought is Midway Arcade Treasures, 20 classic games on a disc. Thankfully Midway are happy just to be game authors; alas Nintendo want to be in the console market too, which means barring getting MAME running on it, I will never play Donkey Kong on my Xbox.
Arcade Treasures is something of a mixed bag, and it probably comes down to the fact that some of the games are suited to different types of controls. Robotron, Paperboy and Gauntlet work well. Marble Madness would be better with its original trackball. Joust is hopeless – you need a button you can continually whack to flap your bird's wings without getting RSI.
But in the comfort of my own lounge room, it's as good as it's going to get for now.
…
Since Tony mentioned Elite, here's my top ten games of yesteryear, in alphabetical order:
Donkey Kong Junior (arcade). The platform game after the one that started it all, with Mario turned badguy. The Game And Watch versions of these games were also great. Hands up who managed to get past 999 points and "clock" them.
Elite (BBC micro). The legendary space trading/flying/piracy/dogfight/exploration game. You have a Cobra Mk3 spacecraft, and eight galaxies to explore. Go do your own thing. Breaking the rules about simple controls, but the concept and freedom within the game was breathtaking. I never did reach Elite status, but I did get to Deadly both on the C64 and the superior (faster) Beeb version.
Gauntlet (arcade). A kind of dungeons and dragons-themed multiplayer game, best experienced (at least for me) in the Fun Factory with three mates, feeding in the 20 cent coins and co-ordinating our efforts battling the ghosts, wizards, Deaths and what appeared to be little kids lobbing rocks over the walls.
Gyruss (arcade). The circular movement of your spacecraft was obviously different, but the frenetic pace, great graphics and sound made this a winner. "3 warps to Neptune". I managed to get through to Earth on the C64 version.
Impossible Mission (Commdore 64). "Stay a while! Stay… forever!" Brilliance in platform games. Some C64s (including mine) would generate the same map and puzzle every time on initial load, making it easy to finish the game.
Joust (arcade). Flying your buzzard around, jumping on the others. Perhaps the first and only game ever that didn't have up/down directional controls, but a flap button instead.
Lode Runner (Apple II). Platform game with a massive number of screens, and instead of jumping over your enemies, you dug holes to trap them which magically filled up after a few seconds. And included a revolutionary idea: design your own levels, something later done on such games as Magic Mushrooms on the Beeb.
Monty Mole (Commdore 64). A very cutesy scrolling platform game, with Arthur Scargill and other Brit coalmining strike references. Another one of Tony Crowther's masterpieces, and one I managed to finish. Other platform games worth of mention include Jumpman, Jumpman Junior, Blagger, Popeye and Thing on a Spring. Undoubtedly 2D platform games were my favourites.
Sim City (PC). The original city designer game, and though less complex and realistic than its sequels, seemed more addictive. Also inspired other related games such as Traffic Giant.
Ultima 4 (Commdore 64). There were many Ultima games, roleplaying obviously inspired by Dungeons and Dragons, but this one had me hooked for many weeks. Wandering around the countryside fighting monsters, finding sailing ships to explore the oceans, through towns and villages and castles trading and talking to people. I wasn't so keen on the dungeon fighting, personally.
There have been many other brilliant games, of course, including many I've probably forgotten and will wish later I'd included.
What are your favourites of all time?