Its arrival has been much anticipated, and finally it happened yesterday.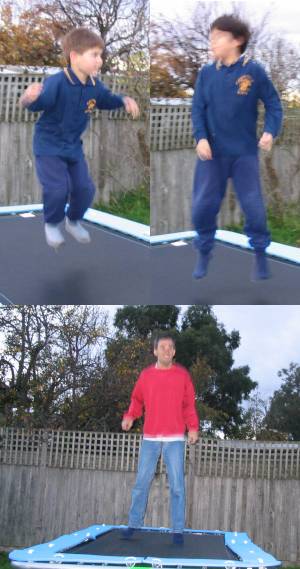 We got a trampoline.
It has been a long time coming. I have been looking around for trampolines for a while now. Just one element in a wide-ranging family exercise regime. We never had one growing up, but I recall visiting our friends the Otters (that was their surname, not their species) and playing on theirs. A lot of fun — so much so that to prevent arguments about whose turn it was, we would have a queuing system and use a stopwatch to ensure nobody went over their allotted time.
Over the past few months, various rumours claimed trampolines had been seen in places like K-Mart, but whenever I went looking I couldn't find them. Until this week, when a well-informed source told me K-Mart not only had them advertised in their catalogue, but they were 25% off.
So I went snooping, and finally discovered that they don't have them on display in the stores because they're too damn big. No, you have to scour the sports equipment section and find a relatively small noticeboard, whereon are posted details of the various trampolines available. This baffling mystery solved, by some miracle I managed to find a genuine K-Mart customer service person and got the trampoline ordered. To be delivered on Tuesday.
Thus the countdown began.
It arrived on our doorstep in a very long box. With Peter's help I put it together. Just as well he turned up (with his granddaughter Zoe), as it's sufficiently big and awkward enough to be a two person job. The metal bits that you have to intertwine into the edge of the mat, in particular, are a bastard, and encountering this encumbrance is clearly a sign to stop, have a cup of tea and a Tim Tam and steel oneself for the task ahead.
An hour or so's labour later, and it was ready. Soon the sounds of bouncing, excited yelps, and the occasional argument about whose turn it was could be heard.
I got to have a go myself eventually. It really is good fun.