People who wanted their supermarket transaction split-up into separate $30 bills just to take advantage of "spend $30 for 4 cents per litre off petrol" and other such deals would have to queue up again between dockets.
The expression "I'll let you go", which is meant to sound like the person is doing you a favour finishing up the conversation but in fact means "get off the damn phone, I'm tired of talking to you now, and have more important things to do" would be banned. A couple of my friends are guilty of using this.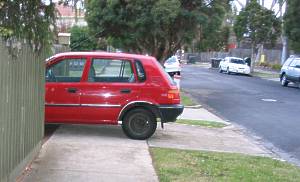 Drivers who consistently fail to use their indicators; needlessly park in driveways blocking the footpath; speed at more than 20kmh above the limit; or deliberately stop at intersections blocking the pedestrian crossing (and may I add often consigning themselves to longer delays because their car is not on the traffic light sensor, so the traffic light may not know it's there) would in the first instance have a large shiny "MORON" sticker applied to the front and back of their car. In the second instance they would be shipped off to re-education camps where they would face very stern Vicroads testers to try to convince them of why they should get their driver's license back.
The world's foremost ant experts would convene at my house one afternoon for a cup of tea and to give me their opinions on why ants are visiting my toilet.
People who complained about stupidly trivial things like the colour of their wheelie-bin would have their bins taken away for a month, to see how they liked it with no bin at all. I mean really, a line of yellow and blue rubbish bins in a street is no less or more ugly than a line of plain green rubbish bins. They're rubbish bins. They're ugly whatever colour they are.