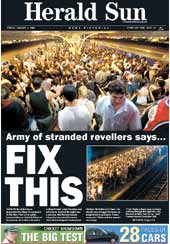 I think it was Alexei Sayle who described people who regularly protested outside the South African embassy in London against the Apartheid regime. When Apartheid finally crumbled, they were shocked that they'd actually won, and didn't know what to do anymore.
Over in my little corner of activism land, three of us slogged our guts out during the holiday break on the issue of New Years Eve transport… with a media release and interviews beforehand, observations on the night, the predicted shambles occurring and lots more media afterwards. Result? Coverage on the news on the four biggest TV networks, and after initially denying there was a problem, the government backed down and looks likely to fix things next year.
It's times like this that the voluntary work is all worth it. With determination and teamwork, you can make a difference. If you have some spare time and a cause you believe in, get involved, give it a try.