Today we zipped around St Kilda, showing our support for the locals, obviously still reeling from yesterday's Grand Final loss. Shocking as it may seem, there seemed to be a lot of Crows supporters around, seemingly gloating, wearing their team colours. So we decked a few and came home. Nahhhhh… <Mr Burns voice> "Let them have their Grand Final Cup. As long as they spend plenty of money while they're over here."
Not that I'm actually St Kilda supporter. My team's Geelong, but I'd rather not discuss their Finals performance.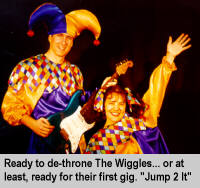 Next Saturday we're going to head for Flemington races. Not for the horse racing, though no doubt the sight of horses would keep Isaac amused for a while. A friend of mine has a scheme to de-throne The Wiggles from their place as Australia's number one kids' group, with a group of his own: Jump 2 It. Their debut performance will be at Flemington at midday. Be there!
Which reminds me… I'm wondering if at concerts for kids' acts who have their videos distributed by ABC Video, if before each show they should get someone on stage to lead all the parents in reciting the promo that's on the start of every tape… "All together now… There's a place alive with the magic of imagination, and all the colours of the rainbow…"