I forgot to mention my weekend. Saturday was just your average day, bumming around the neighbourhood, a little shopping in the city (oh, we did spot Poppy King skulking in Myer).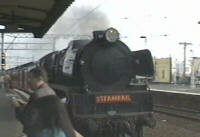 On Sunday we set out to catch the Steamrail Snow Train. It only stopped a couple of times before reaching Moe, and we went so so fast through the towns along the way that most of the time the station names were just a blur. But by looking out for other signs we did manage to see that we travelled through Bunyip and Nar Nar Goon.
Some people can lay claim to the fact that they've gone to some of the most obscure and weird places on Earth. Timbuktu… Nepal… Outer Mongolia. But how many people can honestly say they've been through a place called Nar Nar Goon?
At Moe we changed onto a bus, and rolled not-so-gently up into the mountains, to an obscure little spot called Mt St Gwinear. It's not exactly well known, but for those of you who wondering where the heck it is, it's kinda near Mt Baw Baw.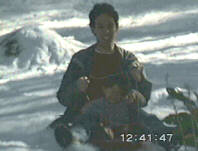 On Mt St Gwinear for a few hours we cavorted and danced and generally had a great time in the snow. Let me tell you a little secret – there is nothing more fun than tobogganing with a two year old. Sure, some things (such as those that you do in small groups of consenting adults in darkened rooms) may seem like more fun, but they're not.
Okay, so I got a certain amount of snow up my leg. But that was a small price for being able to steer the thing. (If anybody can tell me a better method than dipping your Blunnie
heel in the snow, I'd like to hear it.)
It was brilliant fun. Add some packed picnic food, a mountainside sausage sizzle and a kiosk selling Mars Bar Slice, and you may well have found an approximation of what Heaven might be like.