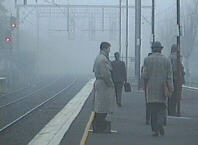 I thought it was foggy yesterday morning when I got to the station and couldn't see much beyond the end of the platform. No hope of seeing if a train was coming, when it finally did come it was just a few moving lights in the mist before it suddenly glided out of the fog into the station like some kind of huge metal magic trick. "Abracadabra! A six carriage train!"
But if yesterday was foggy, today was doubly foggy, especially up on the 27th floor where I work. Normally the city skyline is abundant with skyscrapers – this morning they were all missing. Out of the windows all that could be seen was an off-white mist. It looked like one of those episodes of Doctor Who where they've run out of money, and the crew of the TARDIS look out onto a blank white set.
In fact, it seemed quite possible that aliens had transported the whole building I work in to another planet or time. Would I head out at lunchtime to find that LaTrobe Street wasn't outside, instead I was on the planet Thwarg Fourteen, faced with a mass of Thwargoid Vttsplurg Warriors, armed to the teeth with Office Worker Vapourisers?
As it turned out, no.