Going into this Saturday's State Election, Labor has sold themselves on their transport infrastructure record, which is formidible.
So you might expect the Big Build to be powering on ahead through the election period. You can't stop progress, right?
Turns out no.
Let's rewind to September, and look at the calendar for Metro train disruptions from the Big Build web site. Lots of bustitutions right through the month. (And for some crazy reason this doesn't show some evening closures for Metro maintenance.)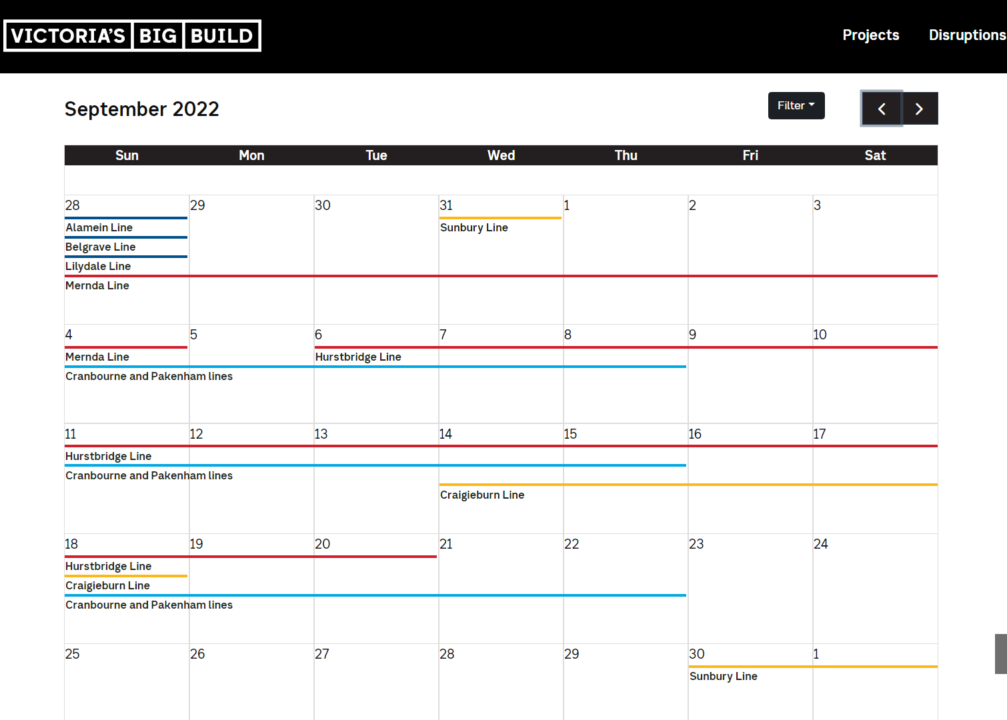 October was a bit calmer, but plenty of Friday night to Sunday night weekend closures (with some evening closures not shown):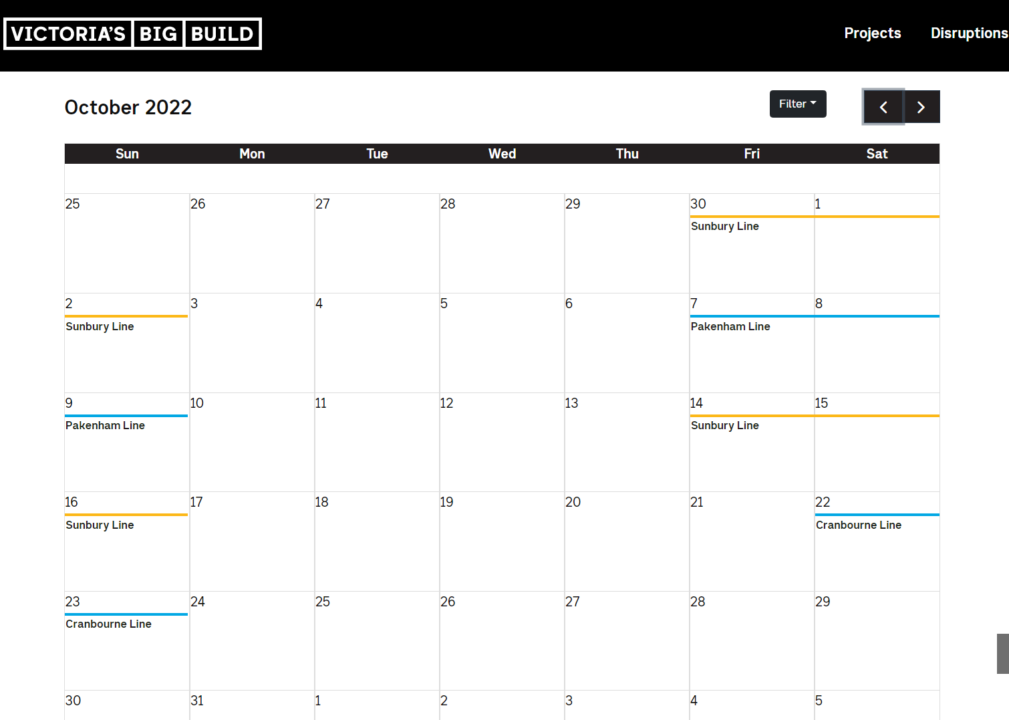 And… here's this month, November. It's not your imagination; train travel has been smoother this month, with virtually no line closures/bus replacements anywhere on the Metro network.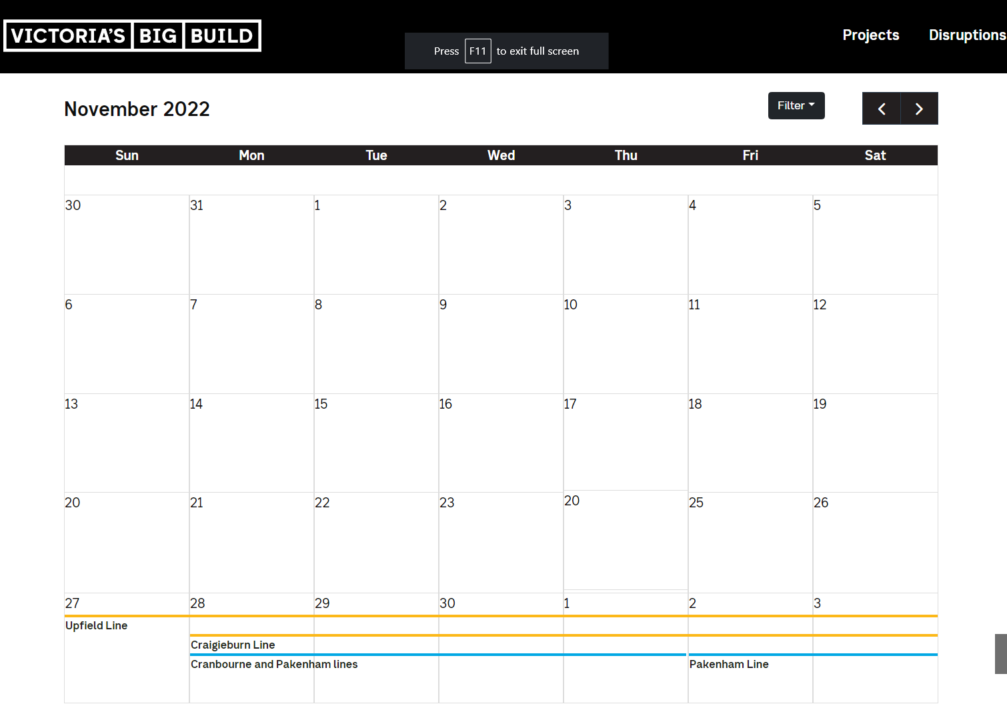 There have been a couple of evening line closures, and one weekend day on the Cranbourne/Pakenham line on Sunday 6th – oddly these don't appear on the Big Build calendar, but are on Metro's. (This is an ongoing problem; it appears the BB only shows project works, not maintenance works… as if to passengers the difference matters.)
There have been some V/Line bustitutions during November, but virtually nothing for Metro. The difference is striking compared to previous months.
It all cranks up again the day after the election. On Sunday 27th November: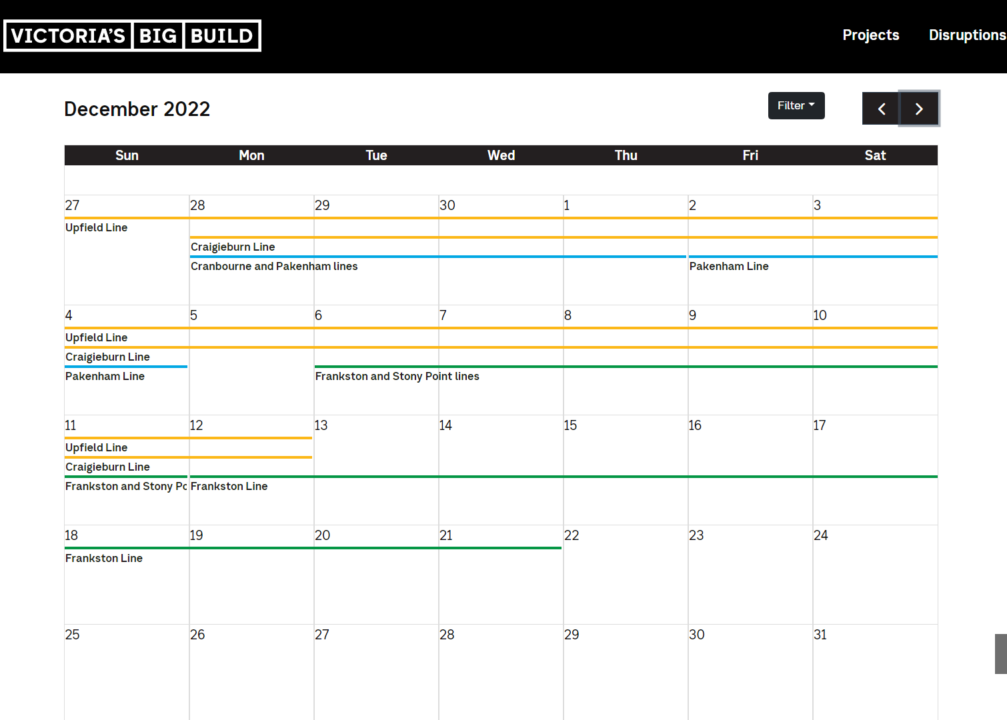 A source tells me that avoiding almost all metro train bus replacements for most of November has been pretty messy. The coordination of all these projects is difficult at the best of times. The intricate scheduling of many interconnected jobs has been severely disrupted.
Perhaps the government wants to avoid making voters grumpy about being bustituted just before the election – remember 2010 when seats swung all down the Frankston line, which was closed for maintenance on election day?
Line closures and bus replacements are a pain, but they're also the price of progress – level crossing removals, which include wholesale infrastructure replacement, and also routine maintenance, and bigger projects such as the Metro tunnel, all of which make the network better.
Authorities do need to manage and resource bustitution more effectively, to better minimise the often painfully long delays for passengers. But perhaps they shouldn't be so afraid of progress.
Postscript: I realised just after posting that a story about this is in the Herald Sun today (Paywall).
---
Happy voting for tomorrow's election!