There's ongoing interest in the Suburban Rail Loop project, with a new batch of information published last month.
Unfortunately some content is somewhat hidden in an "Virtual Engagement Room", which looks flashy, but is slow and awkward to navigate, and means useful information probably isn't indexed on Google or archived in Archive.org. Thankfully most or all of it seems to be replicated on other parts of the web site, including the Factsheets page.
The new information includes more detail of the proposed station locations. If you take a look, you'll see some of them are a short distance from existing Metro stations. Just a few months ago, I was assured by the government that all of them will include paid area interchanges – you won't have to exit to the street to change trains.
After all, the whole project is designed to connect existing rail lines – almost to the exclusion of anything else (for instance, a station between Southland and Clayton). So it will be important that they stick to their word on this.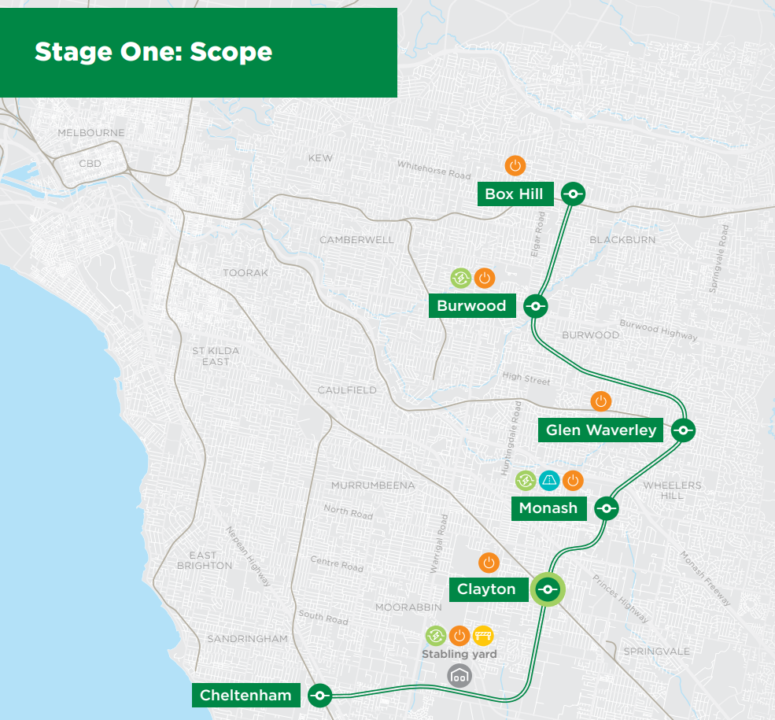 Estimating the service frequency
As usual with these big infrastructure projects, all of the emphasis is on the infrastructure, not the service… even though one is useless without the other.
But there are some clues. The Interactive Map includes this snippet about the stabling yard: "When services start, a total of 13 trains will be stabled on site to service Stage One."
Allowing for maintenance and spares, with a fleet of 13 trains, one might expect 10 or 11 to be in service at times of peak frequency.
(Another document mentions up to 30 trains in stabling. This appears to be a future requirement, possibly to additionally service Stage 2 of the line.)
Meanwhile the government claims a 22 minute travel time for the Stage 1 line from Southland to Box Hill. Add some padding for potential delays, and layover at each end, let's say it's a round trip of about 60 minutes.
Round trip of 60 minutes divided by 10 or 11 trains means a peak frequency of about every 5 or 6 minutes.
This is not too shabby, and would achieve the aim of a Turn Up And Go service connecting the major rail lines to the east and south-east of the City as well as major university precincts and suburban activity centres.
The key question here might be: at what times will this high frequency apply?
Will it be like most other Melbourne train lines currently, with Turn Up And Go service only applying for a few hours per weekday, or will it be all day every day, first to last train, like in a Real City?
And will the rest of the rail network and the local connecting buses also implement an all-day frequent service, so the vision of fast trips and seamless connections around the public transport network becomes a reality?
Because ultimately, a SRL needs to be part of a network of frequent services. That's the only way it can live up to its promise and potential.
---