Twelve years ago debate was raging in the Sunbury community over the electrification of the line from Watergardens. I blogged about it here, pointing out that yes they might lose their comfy V/Line trains, but overall service levels would rise, with more frequent services right across the day.
Looking back, did people desert the service when suburban trains arrived in town, or did more people start using it?
Philip Mallis posted data for 2005-06 to 2018-2019 showing station-by-station annual patronage levels, and this covers the transition of some stations from V/Line to Metro service at both Sunbury and Craigieburn.
I've also included the previous last suburban stops on those lines: Watergardens and Broadmeadows – because the extension of suburban trains might have seen some passengers shift to a station closer to home.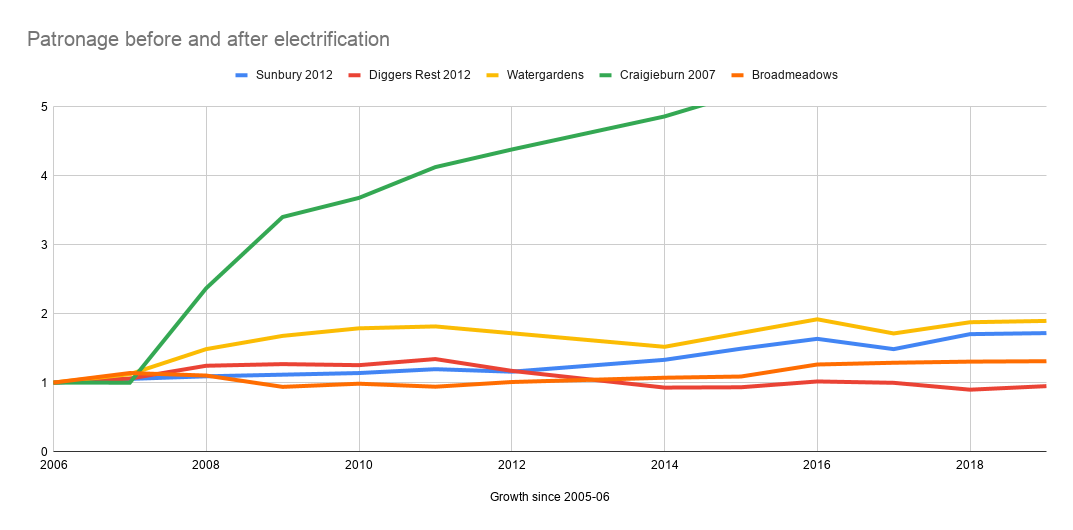 Craigieburn station patronage shot up immediately on switching to electrified suburban services. By 2018-2019 passenger numbers were up to an incredible 7 times the patronage levels prior to electrification.
This is no doubt helped by local population growth, which some years has run at more than 10%.
The scale means it's not obvious, but Broadmeadows patronage has also climbed, by a modest 30% in this time, and although I haven't included them on the chart because they opened with or after the electrification, Roxburgh Park and Coolaroo both have substantial patronage, together almost equalling Broadmeadows at about 910,000 boardings per year.
Sunbury station patronage also grew, but not by the same stratospheric heights as Craigieburn. From 2005/06 to 2018/19 it grew by 72% – so if lots of people did desert the trains after V/Line was replaced by Metro, you wouldn't know it.
While overall V/Line patronage has risen in the last decade, understandably the Bendigo line fell in the period straight after Sunbury electrification. (You can still catch V/Line to/from Sunbury, apart from outbound peak hour trains to Sunbury which are marked as "pick up only".)
Population growth in Sunbury has been more modest, which probably explains the growth in train usage being lower than Craigieburn's. Still, up 72% is not too shabby.
Interestingly, while Watergardens station patronage has grown strongly (up 90%), patronage at the intermediate station Diggers Rest has been slightly below zero growth, down about 5% over the period measured. I'm not sure why that might be – perhaps there's been little or no residential growth in the area. This area is beyond the main contiguous urban area of Melbourne.
Population growth has clearly helped public transport patronage, especially at Craigieburn. The 2015 fare zone changes also helped.
But also important is a decent level of service to attract passengers, and alongside capacity, that was a key benefit of the switch from V/Line diesel services to electrified suburban trains.
Obviously travel patterns are up in the air post-COVID-19. But to keep getting more people on board, more services at the times people want to travel will be critical.