I thought I'd cruise the web and see if I could find information on how various cities' public transport systems worldwide are adapting to COVID-19. This is not an exhaustive list – it's just a summary from some cities where I could quickly find information.
Obviously it's important to remember that there are fundamental differences in the overall situation in these cities. We in Australia have it largely under control. The same can't necessarily be said for Europe and North America.
Some measures are pretty much universal:
Enhanced cleaning of vehicles, stops and stations – though shortages of cleaning products and staff has meant some networks closing some stations and/or some parts of some stations
Messages encouraging good hygiene: frequent hand-washing, cough and sneeze etiquette
Encouraging people not to use the system unless necessary, and to avoid peak hours (stagger trips)
Other measures vary city by city:
City
Service levels
Hand sanitiser dispensers
Face coverings
Capacity limits
Fares
Boarding
New York City MTA
Reduced, including no all-night subway to enable cleaning
Compulsory
No cash transactions at station booths
Rear door boarding of buses
London TFL
Reduced, in part due to staff availability
Yes, including at all stations
Recommended
No cash except at a few stations

Some buses free due to rear door boarding
Rear door boarding of buses while driver screens are improved
Vancouver Translink
Yes
Recommended
Seat markings and capacity limits on buses and Seabus (ferry)
Rear door boarding and free rides were in place, but phased-out from 1st June
Los Angeles Metro
Reduced service, similar to weekend timetable
Yes
Compulsory
No fare payment expected on buses
Bus rear door boarding
Washington Metro
Reduced service, shorter operating hours. Some stations closed
Compulsory
No fare payment on buses due to rear door boarding
First and last carriage of trains are closed

Bus rear door boarding
Portland Trimet
Reduced service
On vehicles
Compulsory
Bus capacity limits
No cash on buses
Boston MBTA
Modified service, including no ferries
Compulsory
Bus and trolley (tram) rear door boarding
Seattle/King County Metro
Reduced service
Recommended
No fare payment
Bus rear door boarding
Chicago CTA
Reduced service
Compulsory
Bus rear door boarding
Paris RATP
Reduced service, shorter operating hours. Some stations closed
Compulsory
Brussels STIB-MIVB
No all-night services
Compulsory
No cash transactions
Bus/tram rear door boarding
Berlin BVG
Full service
Compulsory
No on-board ticket sales
Bus rear door boarding
Sydney Transport For NSW
Full service
Yes
No
Use marked seats only to limit capacity
No ticket sales where Opal card is valid
Perth Transperth
Minor changes, eg no late night trains
No
Cash boxes on buses (no change given)

Paid station parking temporarily free
Rear door exit where possible
Adelaide Metro
Reduced bus services to match demand
No
Brisbane Translink
Full service
No
No cash accepted except at vending machines
Rear door boarding of buses
Melbourne PTV
Full service
No
No
No cash accepted except at vending machines
No use of front door on trams, and some buses (varies by operator)
Face covering rules on public transport rules mostly reflect wider rules in those cities. (Note they mostly refer to face coverings, not masks specifically. Scarves and bandanas are generally considered okay.)
Hard capacity limits only seem to be in place in Vancouver, Portland and Sydney – none of the other cities I looked at are imposing them. Most merely encourage people to maintain distance from others, without enforcing it. (Remember: the above is not an exhaustive list.)
And Melbourne's response? Here's a summary, from a presentation given by PTV/DOT to UITP this week: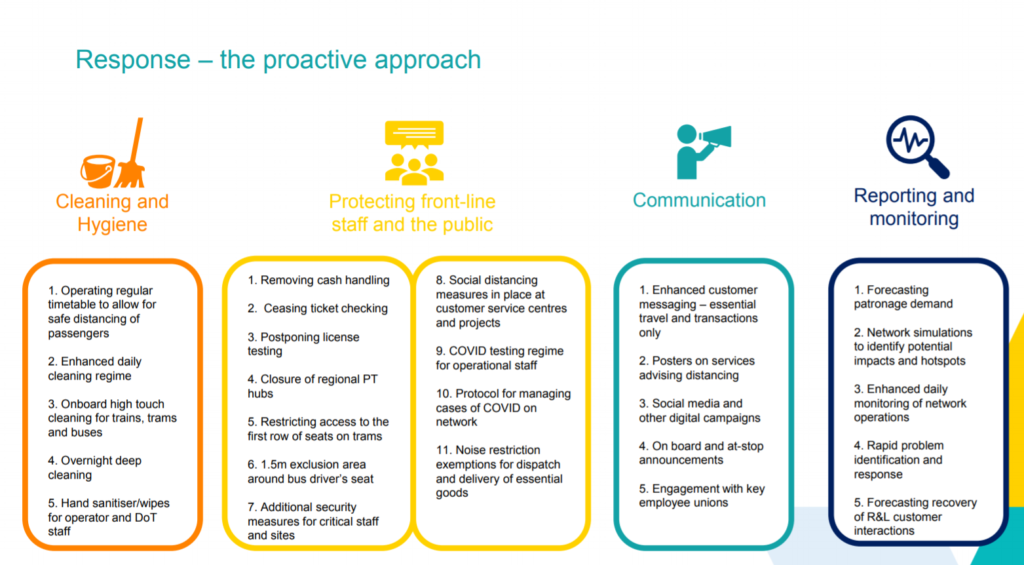 The public information and advice from PTV is here, and includes advice to keep your distance, practice good hygiene, and to stagger your travel.
Melbourne's capacity problem
Here in Melbourne, patronage has recovered to about 20% of normal levels. We are told adequate physical distancing requires the system to run at about 15% of capacity.
(It's not clear to me if the numbers flying around are directly comparable, as they seem to be measuring different things. Patronage does not normally fill 100% of capacity, especially on off-peak and counter-peak services.)
So if physical distancing is to be maintained, how will bus/train/tram capacity cope as more people get on board? One key message is asking people to stagger their trips.
But a big problem is that in Melbourne outside peak hour, public transport capacity falls off a cliff, especially on the trains.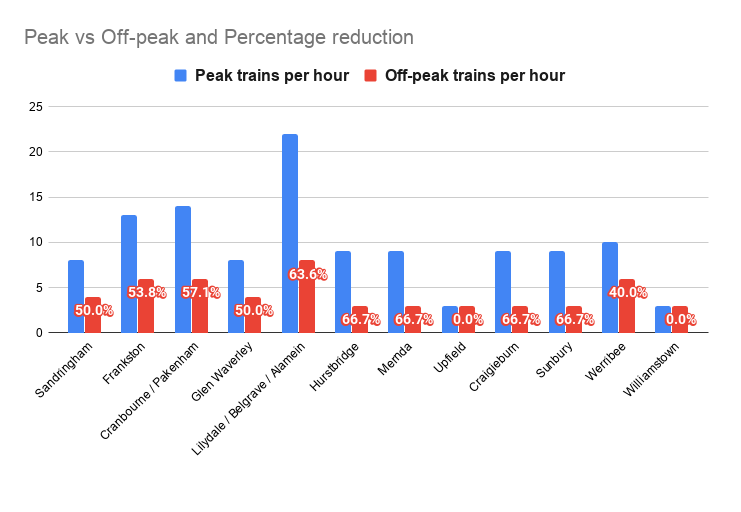 This PTUA study released this week found that network-wide, overall capacity drops by 56% after morning peak. On some lines (Hurstbridge, Mernda, Craigieburn and Sunbury) the number of services drops by two thirds – 67%. It's even worse in the evenings.
You can't tell people to stagger their trips to avoid peak hour if off-peak is likely to be just as crowded.
Bus capacity and trams on some routes will be an issue too – for instance trams in the evenings mostly drop to only 3 trams per hour – a drop of around 70% on some routes compared to peak.
Melbourne's crowding hotspot: the Free Tram Zone
And of course there's the Free Tram Zone – crowding in the CBD has been a problem for a long time, but the FTZ made it markedly worse. That type of crowding every day in the CBD could be a public health disaster waiting to happen.
Some cities have specifically called out maintaining fare collection as a way of preventing or curbing crowding.
Given the risks if bad crowding returns, now would be a really good time to get rid of the Free Tram Zone.
A wide range of measures
It's clear from emerging research that the most effective ways of stopping the virus spreading involves a wide range of measures.
It's not just about good cough/sneeze etiquette, and physical distancing.
Many cities worldwide are deploying hand sanitiser dispensers, so people can keep their hands clean. (Personally, I've got a small bottle I carry with me when I travel.)
And face coverings are something many cities around the world recommend or mandate on public transport – but not yet in Australia.
Notably, face coverings (particularly those that are not surgical masks) aren't so useful for protecting the wearer, but can be useful to stop the wearer spreading COVID-19 when they don't realise they have it. In Australia, there's no recommendation to wear them, but Federal Chief Medical Officer Brendan Murphy has supported their voluntary use.
Some research suggests that the virus spreading via coughs, sneezes and talking is more prevalent than via touching objects, meaning that face coverings might potentially be more important than distancing – and a good precaution to work alongside it.
If further research confirms this, it might be something of a relief to authorities – public transport relies on being efficient at carrying large numbers of people. And their host cities rely on that too.
Enforcing physical distancing to the Australian standard 1.5 metres, particularly long term, would have dire consequences for cities and their public transport systems.
Maybe where distancing is just not possible, well-executed implementation of other measures can help fill the gap and keep passengers and staff safe.
Australia has done well so far with COVID-19. Keeping it that way means vigilance by the general public and by authorities – including considering every option available, as research continues to emerge, to slow and stop the spread.
---
Update 6/6/2020: This is precisely what I meant by emerging research:
So where distancing isn't possible, such as on public transport and in locations as varied as shops and refugee camps, it's suggested that faces are covered with homemade masks to avoid passing on the infection.
Obviously there will be debate about how relevant this is in Australia, given very low rates of community transmission, but transport authorities will want to look closely at this..
Update 9/6/2020: We finally have an answer on whether Metro can/will modify train doors to open automatically. The answer is no.
Unfortunately such a change would require a complete redesign for the door systems on around 180 trains – then taking them out of service to be rebuilt.

It would also allow cold wind and rain into the trains at every stop (not a good thing in winter in Melbourne).

— Metro Trains (@metrotrains) June 8, 2020