Here's a snapshot of Melbourne's public transport patronage over the past five years, by mode.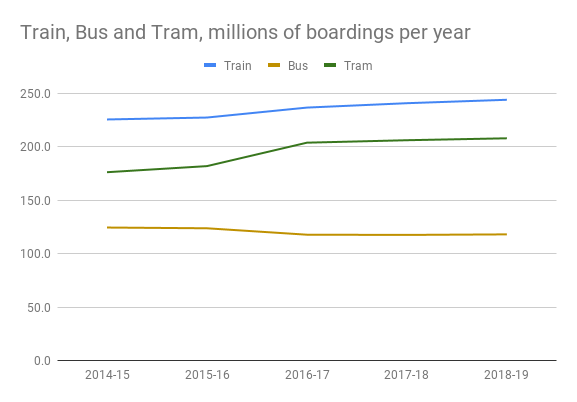 Tram and train are growing. Tram in particular saw strong growth thanks to the Free Tram Zone, but both those modes show increased patronage.
The trams now carry over 200 million boardings on just 24 routes.
But bus patronage is stagnant – with around 120 million boardings per year on around 400 routes – despite population growth, much of it in the middle and outer suburban areas that are only served by buses.
(By comparison, Sydney's buses carry around 300 million trips per year.)
A big factor is that Melbourne's buses generally have low service quality: many routes are infrequent, slow, inefficient, inconvenient.
In some parts of the world, cities are fixing their buses… Paul Comfort of the Transit Unplugged podcast talks about the bus systems that are growing patronage, and notes three primary factors:
"rebooting" bus networks via route reform to make them more direct
measures to "remove friction" – including bus priority, off-board fare payments, and all-door boarding
and increasing frequency
These types of changes would make Melbourne's buses run more like trams – and crucially, make them more attractive to passengers.
1. Route reform
One of the most frustrating things if you get onto many Melbourne bus routes is just how long they take to get from A to B.
A PTUA study back in 2012 measured how direct bus routes are. On average the routes were 70% longer than the direct alternative from start to finish. 20% of routes were more than double the shortest distance by road.
There can be good reasons for this – the long Smartbus orbital routes are really multiple routes strung together, not intended to be used from end to end. And many routes divert to major traffic generators such as railway stations and shopping centres. Fair enough.
But many buses run routes that divert too much, including off the arterial roads down slow minor roads instead (hello route 822). Some routes are split into different variants, making them confusing.
The overall result is a bus network that is too slow for most people, is expensive to run for the route coverage it provides, and is difficult to understand.
Contrast this to the tram network. It's helped by its origins: largely built when public transport was growing and direct routes were a priority (and new street layouts were more suitable), and it was harder to fiddle with in the period late last century when patronage was declining and cuts and consolidation were rife on the buses. As a result trams are still mostly direct, mostly on main roads, easily understood – and popular.
The specifics of bus route reform vary of course – Peter Parker's "Melbourne On Transit" blog has numerous articles looking at specific areas for proposals to improve routes.
2. Bus priority
Speeding up bus operations is particularly important at present, given the COVID-19 crisis, to help reduce the potential exposure time for passengers and drivers.
It should be blindingly obvious that a bus carrying 20, 30, 40, 50 or more people should get priority over individuals in cars.
But while bus priority lanes (including jump-start lanes at traffic lights) have been implemented in some locations, but are sorely lacking in others.
The recent widening of the Chandler Highway bridge from a single lane in each direction to three lanes in each direction is a good example. Plenty of space for bus lanes to insulate buses from future traffic congestion, and an opportunity to improve north-south buses across the Yarra, but no.
Likewise Skybus struggles on without bus lanes, despite an Infrastructure Victoria report recommending they be provided ahead of any airport rail link – and despite recent widening of Citylink.
And over in Fitzsimons Lane, they've removed bus lanes. (Sounds like they are leaving bus queue jump lanes; hopefully these help.)
Where bus lanes do exist, they need to be enforced properly. This is an ongoing problem on Hoddle Street for instance.
Dedicated lanes aren't the only way of improving bus speeds. Queue/jump start lanes at key intersections can help as well.
And smarter traffic light programming can help buses get through without hitting a red, and speed up journeys. This was originally a part of the Smartbus program, but much of this seems to have fallen by the wayside. It would be good to see it revived – often it doesn't take precious road space, and may be more politically palatable than re-allocating general traffic lanes for exclusive bus usage.
On-road priority methods should be equally applied to trams as well as buses, of course.
3. All-door boarding
All-door boarding can help speed up buses, and it's being done in a number of cities around the world, particularly in North America.
NACTO (the National Association of City Transportation Officials, USA) has a good whitepaper on this here.
Could all-door boarding happen on Melbourne buses?
Yes. If you were hanging around Monash University one day in January, you might have spotted a crowd hanging around the 601 bus stop, trying out various bus loading scenarios, including all-door boarding. This was a DOT exercise to look at issues such as use of bus capacity, and unloading/loading (dwell) times.
Discussions and a trial are underway… but meanwhile… boarding via the back door has happened anyway.
As part of COVID-19 measures, Transdev Melbourne, one of the biggest bus operators in the city, has asked all passengers to avoid using the front door, and touch-on at the back.
4. Prepay buses
Paul Comfort also talks about moving payments off the vehicle to speed up loading, making buses a prepaid service. This goes hand-in-hand with all-door boarding.
Melbourne and many of Victoria's regional cities have already gone a long way on this thanks to Myki, with only a small minority of people paying on-board the bus.
Could you go entirely to cashless, and ask all passengers to top-up before travel?
Once again, it's happened anyway – due to COVID-19.
Going cashless, if it can be made to work permanently, also means operational efficiencies such as bus drivers no longer having to leave the depot with a cash float to be able to provide change.
What about the middle ground: allowing top-ups on board, but not providing change? That would speed things up. If the cash was deposited into a locked box on the bus, it could also improve security. (This has been the practice on some American systems for decades.)
Well it turns out Transdev have already stopped giving change – it was happening before COVID-19. This photo is from December:
There could be some issues with not allowing on-board top-ups, or not providing change, particularly for the cohort of passengers who are watching their pennies, and who might top-up the cost of a single fare each time they travel.
Some passengers may also lack online access, though there are other options:
You can ring PTV and top-up by credit card over the phone, but the same group may also lack credit cards.
You can use a Myki Machine at a station or top-up at a retail outlet, but these are scarce in many bus-only outer suburban areas.
If buses implemented all-door boarding and prepay, they would become more like trams. This would mean that more ticket checks are needed on board, as on trams and trains – though with many passengers making connections at railway stations, better monitoring of the train network may be easier to achieve to protect revenue.
5. More services
Perhaps the biggest major barrier to more bus patronage is waiting times and poor operating hours.
While many of Melbourne's busiest bus routes are those that run most frequently, in many cases this is for purely historic reasons. For instance the inner-west's most frequent buses (216, 220, 223) all used to be trams.
Transport is supply-led – infrequent routes will never get lots of passengers on board, even if overall travel demand is heavy. But extending operating hours and making more routes run more frequently will get patronage.
Unlike some of the measures above, adding services incurs ongoing costs. But it's less of a burden if the other steps are also taken: if the route structure is made more efficient, and the buses are moving more quickly.
A good first step would be upgrading weekend and evening services on the busiest routes, when there plenty of buses sitting idle in the depots, minimising the additional cost.
The pay off
Any of these bus upgrades can be tried in isolation of the others, though the more are applied to routes, the better.
The Smartbus program combined route reform (more direct routes, better aimed at traffic generators) with more service – as well as better real-time information and a little bit of bus priority. Patronage growth was impressive.
It's been a similar case in a few areas around Melbourne where route reform and (modest) upgrades have been applied, for instance in the Brimbank area.
Patronage growth can mean more fare revenue coming in, offsetting the cost of the upgrades.
Importantly in the immediate aftermath of COVID-19, it's not just about ridership: there is tremendous economic and social value in enabling people in bus-only suburbs who are displaced by the downturn to be able to access jobs and education without having the financial burden of running a car – not to mention helping relieve the burden on society of more cars on the roads.
One thing's for sure: the current strategy of doing very little* is not working – bus patronage should be growing at least in line with population growth, but it isn't.
Some smart investment in better bus services – to make them more like trams – will get more people using them.
---