One of the effects of the COVID-19 crisis (which I wrote about in general terms yesterday) is a steep fall in public transport usage.
This is partially people avoiding the network and switching to other modes such as cycling and driving, but mostly it's people avoiding travelling in the first place. (City Mapper data suggests as of Thursday 26 March, overall travel, across all modes, is down 80% from the usual levels.)
How far has public transport usage dropped?
The Age reports today that patronage is down by around 90%.
I was interested to see how the patronage drop affected service punctuality.
Punctuality for the month of February 2020 (on-time within 5 minutes) was 90.3% for Metro Trains, and 81.5% for Yarra Trams.
Using PTV's daily figures, I was able to see how rapidly this is changing: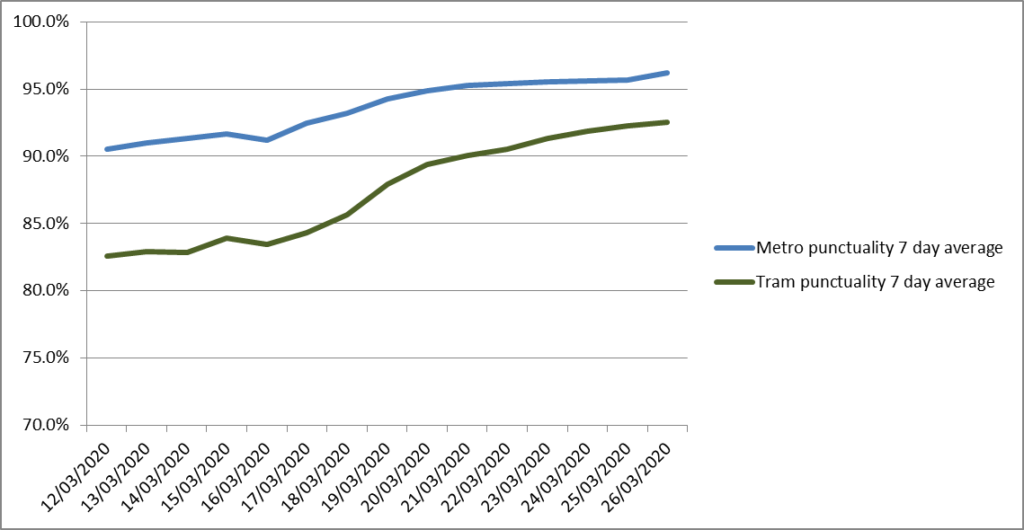 I've used a 7 day average figure, to smooth out spikes on specific days, and the effects of weekends.
The trend is obvious, and isn't a great surprise, as fewer and fewer passengers are using the system. And in the case of trams, there's also less traffic on the roads delaying services.
(I can't show you bus punctuality data because it's generally not published.)
A quick glance at PTV's data back to 2000 shows Metro train punctuality is now at its highest since at least 2004, which was before the huge patronage surge in the latter part of that decade.
And since 2000, tram punctuality has never before been above 90%. Shows how good trams could be with effective traffic priority.
Avoiding performance penalties will be of benefit to the operators. But they also earn a large share of Myki fare revenue. In 2018-19, Metro, Yarra Trams and V/Line jointly received $620 million of this money (out of total fare revenue of about $982 million).
So the overall financial hit from plummeting patronage is enormous, given they are continuing to run a full service.
It is of course important for the public transport network to keep running, even if there are further government restrictions on activity, as no matter what, it's critical that essential workers can get to their workplaces.
And service capacity must be sufficient to ensure the risk of close proximity for passengers and staff is minimised.
In the UK, there's been a change so that the government takes on the revenue risk and the impacts from falling patronage from the private rail operators.
This will be something to watch in the days and weeks ahead.
---
Update: While most tram and bus doors open automatically, train doors don't. Metro is investigating this (though the Comeng trains will still be a problem).