In Victoria, public transport performance data (in particular reliability aka cancellations, and punctuality aka delays) is "usually published on the 10th of every month." – or so they claim, anyway.
This typically gives eligible passengers just under 3 weeks to claim compensation. Applications normally close at the end of the month.
But the publication of this data has been getting later and later. I've graphed it back to the start of 2018, based on PTV media releases. (For a couple of months, the announcement is not on their web site – I've used the date of media reports instead.)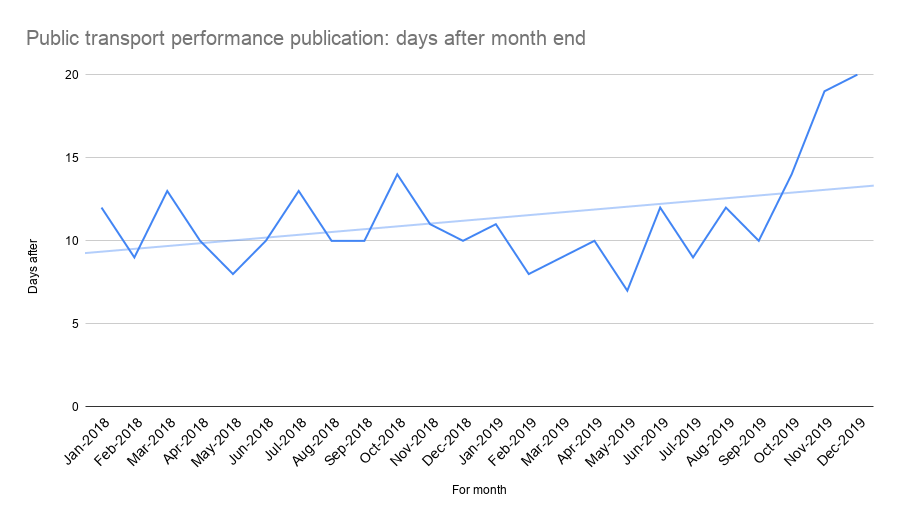 The last time they delivered the data by the 10th was September's figures in October.
The publication of November data on 19th December set a new record. And the December data? As of 5pm today, the 17th of January, it's not out yet – so it's at least a week late. (Update: published on 20th January.)
When they publish the information late, are they allowing more time to claim? Nope.
How long does it take to publish this data? Unclear – there may be some manual collation and adjustment that has to take place, including dispensations for events outside the operators' control.
But keep in mind that some data is published daily by PTV, and the operators certainly use near-real-time data internally.
It's bad enough that public transport services are delayed, but it's pretty poor form when even their punctuality data is delayed.
If this is going to keep happening, then at the very least they should allow more time for compensation claims. (Really it should be automatic. They use Myki data to reject claims. They could use it to find eligible passengers.)
But at least train and tram data is published.
Bus punctuality and reliability data is not normally public, despite it having been automatically collected via GPS since 2016 (no doubt the same systems supporting real-time information).
Taxpayers fund the transport network to the tune of billions of dollars every year, much of it paid to private operators.
Obviously the investment in these services brings huge benefits to society… but transparency is also important. We have a right to know how well the public transport network is performing.
Update 20/1/2020: the December results have finally been published. The graph above has been revised.
Yarra Trams is paying compensation to eligible passengers, and – apparently due to the late publication – Passengers have until 10 February to apply for performance compensation.