I don't often write about climate change, but here are a few thoughts as we go into the Federal election on Saturday.
But first I need to get these points out of the way:
Climate change is real.
If you think climate change is a hoax because you think you know more than the 97% of climate scientists who say it's real, that's up to you – but I'm not interested in your theories. Don't bother leaving a comment.
Australia's share of emissions isn't that big, but that doesn't mean that we don't have influence, that we shouldn't set a good example, or that we shouldn't make an effort with everybody else.
Okay then.
So often it seems the politics of climate change in Australia comes down to cold hard cash: the cost, the impact on jobs.
The Coalition's rhetoric going into the election, and for literally 20 years now, has been to demand to know how the cost of reducing emissions.
They never seem to consider the cost of not acting.
No matter how much I might dislike the rhetoric, for some people it resonates, and it seems in Australia, real action on emissions reductions may continue to be resisted for this reason.
But what I think might (hopefully) get things happening is if it can be shown that actually, cutting emissions can save money.
Technology is getting cheaper over time, and this is changing the equation.
Some examples:
Power
Everyone knows the importance of affordable reliable power.
Coal subsidies are huge, particularly the costs of keeping the existing coal power stations going.
It's even getting cheaper to build new renewables than to maintain existing coal power stations – let alone build new coal power.
Recent power reliability problems such as on January 25th were caused by coal failures. Coal is becoming expensive and unreliable.
No wonder coal is on the way out, with 13 coal power stations shut down in Australia since 2012.
Meanwhile effective large-scale battery systems have emerged that are
overcoming store and dispatch issues with renewables, contributing to stabilisation of the grid, which in turn demonstrably cuts power costs.
This means I'm not convinced anymore that clean means unaffordable and unreliable.
(People like to talk about baseload power, but what's really important is dispatchable power – in other words, available when and where it's needed.)
Britain recently went a week without coal power. Okay, so it included 46% gas and 21% nuclear, but they still think they can regularly get by without coal and gas by 2025.
The cost of PV panels is dropping, making both large-scale solar farms and household solar a good investment.
Given labour is becoming the biggest cost in many industries, it makes sense that over time, the once-off installation and maintenance of renewable energy generation will end up being cheaper that paying people to continually dig stuff out of the ground and burn it.
In fact the economics of it means that even people who don't believe in climate change are jumping on this bandwagon.
Tony Pecora, the now disendorsed Clive Palmer/UAP candidate for Melbourne, who believes that the IMF and the World Bank "are pushing the idea of climate change so strongly … because having a global-based carbon taxation system is one of the most effective ways of centralising financial power" (his actual words) and yet his day job is installing solar panels!
Cars
Meanwhile the cost of electric vehicles is dropping, with some models set to drop to the same price as their petrol counterparts by next year. That's high-end vehicles initially, but even for models such as Toyota Camry it's likely to be between 2022 and 2024.
The Coalition's bleating against electric vehicles is utterly ridiculous. They've gone in hard against them just because Labor has decided to support them – a reminder that politicians will say almost anything to get themselves elected.
The key claim that electric vehicles are under-powered is just simply wrong. Here's a video of a Tesla pulling a Boeing 787.
With other countries moving on this, vehicle manufacturers are also moving off petrol. Mercedes just announced half of their new vehicles will be electric by 2030, with all switched by 2039.
Electric vehicles won't fix traffic problems, but do reduce pollution in cities, and if combined with renewable energy, will help cut overall pollution and emissions.
Transport choice
Transport investment has outcomes in emissions.
Because transport is supply-led, funding more road infrastructure results in higher emissions (especially while the bulk of the car fleet is petrol) whereas providing better public transport (particularly when powered by renewables) gives people options to leave the car at home more often, helping to cut emissions.
Victorians who consider transport infrastructure important have a stark choice in Saturday's election. The Coalition says they'll fund the East West Link. Labor says it'll fund the Suburban Rail Loop.
SRL isn't perfect. Most would agree it isn't as important as Metro 2. And the whole concept still needs fleshing out. But I'd rather have it than EWL any day.
Follow the money
Lots of people want action on climate change, but the way the economics are going, even those who don't particularly care will soon be choosing to buy electric vehicles and rooftop solar – because it'll be cheaper.
And power industry investors will be building renewables, not coal, because it'll be cheaper. The dinosaurs will be left behind.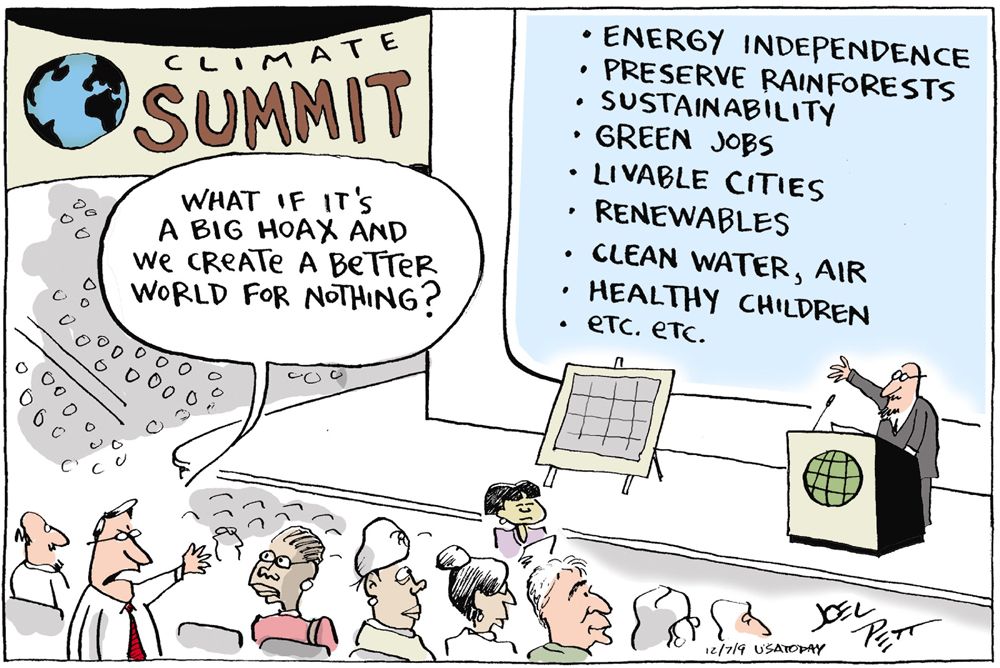 So I suspect climate change action will come, with of course plenty of other benefits from cutting pollution.
But this is not an excuse for our political leaders to do nothing. On the contrary – they should be pushing harder for change, to help us ride the wave, not swim against it.
It's not just good for humanity, it can also ensure that Australia doesn't miss out on opportunities to be at the forefront of a huge technological shift as the world decarbonises.
More action needed
So the good news is that money will force progress.
The bad news it it won't be enough.
The science says CO2 needs to get down to a level of 350 parts per million to stabilise the climate. It's just gone above 415, the highest in human history.
Something has to happen, and quickly.
It's all very well for us to just follow the money to cleaner energy and reduced emissions, but stopping dangerous climate change should be a higher priority for our political leaders and policymakers.
Vote well, Australia.